A same-sex kiss was apparently cut from Disney's "Descendants 2," and fans aren't happy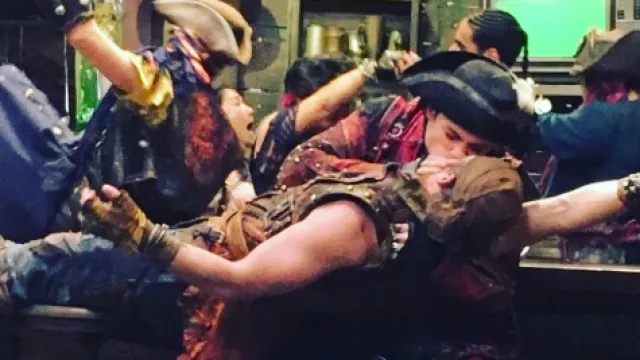 Over the weekend, around 13 million viewers tuned in to see the Disney Channel's Descendants sequel. But unfortunately, it seems the network cut a same-sex kiss from Descendants 2, and fans are understandably peeved that they didn't get to witness it for themselves.
Rumors about a same-sex romance in the movie have been swirling since last summer, with fans hoping that the film would feature openly gay characters. And it seems that a same-sex kiss between Harry and Gil was filmed, but removed prior to release on Friday night.
Disney has not commented on the controversy, but actors Thomas Doherty and Dylan Playfair, who played Harry and Gil respectively, posted to Instagram following the movie's release, seemingly confirming the kiss.
https://www.instagram.com/p/BW02PUAl2ie
https://www.instagram.com/p/BW5bm7zgbz0
Internet sleuths confirmed that in the book version of Descendants 2, the characters also share a kiss. It's unclear why the kiss was removed, but fans are disappointed nonetheless.
https://twitter.com/udfredirect/status/888998559395319809
This would have been the first same-sex kiss on the Disney Channel — though not the first same same-sex couple. The channel featured a lesbian couple on Good Luck Charlie back in 2014, so it seems they're receptive to the idea of including LBGTQ characters in their TV films and shows.
However, it seems all hope is not lost: If Disney green lights Descendants 3, perhaps they will include the fan-approved same-sex romance between Harry and Gil. Given that the ratings for Descendants 2 were so high, we're truly hoping they take it into consideration and give fans the kiss they've been waiting for!