Dermot Mulroney says he's ready to make My Best Friend's Wedding 2, and same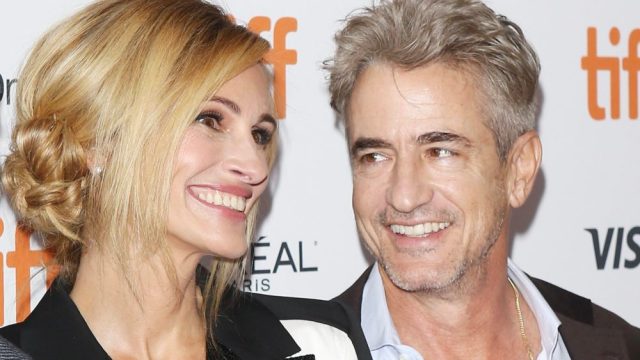 Start saying those little prayers, because Dermot Mulroney knows the internet is begging for a sequel to My Best Friend's Wedding. And not only is he down, but he's been on board since 1997.
Julia Roberts and Mulroney's characters may not have ended up together in the beloved 1997 romantic comedy, but the pair are reuniting on screen in the new Amazon series, Homecoming. In the series, which began streaming on November 2nd, Roberts stars as Heidi Bergman, a caseworker for a government program that aims to help soldiers acclimate to civilian life. Mulroney, meanwhile, plays Heidi's boyfriend, Anthony.
While seeing the former costars—and real-life friends—reunite on screen has warmed our nostalgic hearts, it's also renewing calls for a My Best Friend's Wedding sequel with a furor only the internet can provide.
During a recent appearance on The Talk, co-host Sharon Osbourne coyly broached the topic of a sequel to Mulroney.
"Seeing you and Julia back together again, everybody is hoping this is going to lead to a sequel to, come on…" she began, encouraging the actor to continue.
"I know, I know, My Best Friend's Wedding. They want to see that happen, Mulroney said, "Well, the question is much chronicled. You'll notice that the answers are hard to come by. I'm certainly not in the decision-making process, he said.
But while he may not have a hand in bringing that sequel to life, he's definitely game to return as Michael O'Neal.
https://www.youtube.com/watch?v=p27In1cGxG4?feature=oembed
"I've been clear from the beginning, I've been clear from 1997 that I'm ready for a sequel. So, I'm on record! Mulroney added.
Mulroney's admission on The Talk comes just after Roberts revealed she'd be open to the idea. During a recent interview with Entertainment Weekly, the legendary actress opened up about which of her iconic character's she'd love to revisit in a sequel. She said that while many fans want to know where Vivian, her Pretty Woman character, ended up all these years later, she'd be most curious to catch up with the characters in My Best Friend's Wedding.
Roberts said, "I guess I think maybe it's just because we're talking about Dermot. But Rupert was so funny in My Best Friend's Wedding. I guess Kimmy and Michael are married and they probably have kids. And then there's me and Rupert."
Are you listening, Hollywood?