Derek Hough and Sterling K. Brown had an epic dance-off, and we're the real winners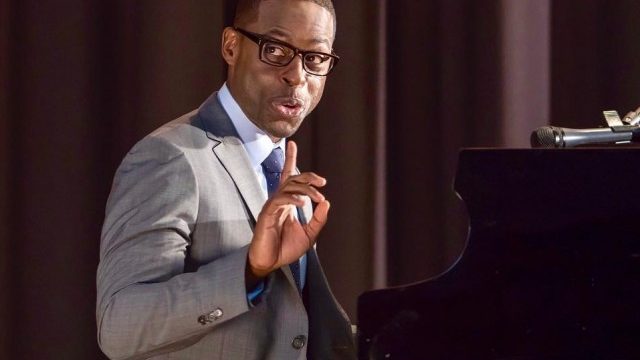 Is there anything that Sterling K. Brown can't do? Brown snagged an Emmy nomination for his work on This Is Us. Now that he's gearing up for film roles in Black Panther and the 2018 Predator remake, he looks completely different. (Those abs, though.) But there's another triumph to add to the list: world's greatest dancer.
Hough posted a video on Instagram of the two dancing to the robot. We love dance videos. And TBH? The robot has never been so sexy.
Surrounded by magical blue light, the pair dance along to Daft Punk's "Lucky."
Oh, but we are the lucky ones here.
We are totally bummed we weren't invited to this dance party. Hough and Brown, along with some of our other favorite celebs, were at the Grand Opening for WMTV. The new television station in New York threw quite the party, according to the hashtag #epicwmtv. We're just so excited that this adorable video came out of it!
Of course, this isn't the first time we've had the pleasure in watching Hough or Brown dance. A few days ago, Brown posted his own dancing video to Insta, and well, we may have watched it a few times.
We all know Hough is an incredible dancer. We will literally never get tired of watching him move so elegantly.
Earlier this year, Hough joined NBC's World of Dance alongside the impeccable Jennifer Lopez. Brown is gearing up for the next season of This is Us, which we already cannot wait to see.
In the meantime, sign us up for a worldwide tour starring Sterling K. Brown and Derek Hough. The robot has never looked so good.