Derek Hough's "American Ninja Warrior" skills prove dancers are amazing athletes
You show 'em who's boss, Derek Hough!
The smoking hot World of Dance star lent his gorgeous physique to the American Ninja Warrior course for Red Nose Day, and in the process showed just how ~dayum~ athletic his perfectly coordinate dancing feet really are. Moving through the course more like an actual ninja than just a mere athlete, Hough raced through like a perfectly choreographed routine.
And while we know for certain that the American Ninja Warrior courses are no cake walk, Derek made it look like a breeze. Guess that's his natural athleticism paired with his dancing prowess!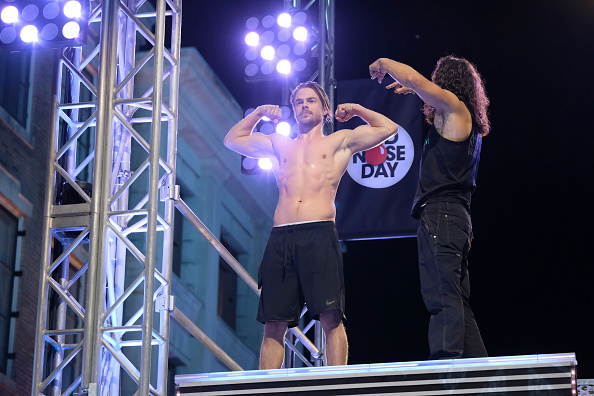 Of course, while he may have a superhuman bod, not even he's perfect. After taking a tough fall into the water on one of the course's most challenging events, the professional dancer got right back up and went for it again, stripping off his soaking wet shirt to expose his soaking wet abs, looking more like a Greek god than a man….wait, what were we talking about again?
Oh right, Derek and his badass performance (slash bod).
https://www.youtube.com/watch?v=Gz2aPKmWqAI?feature=oembed
The dancer got back up on his feet sans shirt and completed the harrowing course, and went on to finish the course like a true champion. Guess that white tee really was weighing him down!
Like we said, Derek was showing off his athletic skills for American Ninja Warrior's celebrity edition in honor of Red Nose Day U.S., which is a Comic Relief-affiliated charity event that raises funds to help end child poverty.
Oh, Derek Hough, could you be any more perfect? We think not!