Democrats were actually booing at last night's State of the Union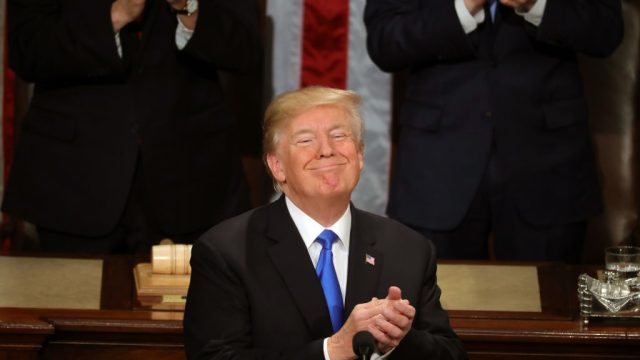 Donald Trump delivered his first State of the Union address on Tuesday, January 30th, and while there were many in the room who clapped and stood to show their support, not everyone was impressed. Namely, the Democrats in Congress. Many Democrats wore black to the State of the Union, following Hollywood's lead to stand in solidarity with survivors of sexual misconduct. And at certain points during Trump's address, you could even hear Democrats booing. (And really, can you blame them?)
Trump outlined a four-pillar immigration plan that's xenophobic and straight-up scary. He described his plans for creating a path to citizenship, building a wall to tighten border security, and ending the visa lottery. But when he spoke about ending what he calls "chain migration," the Dems didn't hold back. They loudly booed and hissed at his words.
"The fourth and final pillar protects the nuclear family by ending chain migration," Trump said in his address. "Under the current broken system, a single immigrant can bring in virtually unlimited numbers of distant relatives. Under our plan, we focus on the immediate family by limiting sponsorships to spouses and minor children. This vital reform is necessary, not just for our economy, but for our security, and our future."
Here's a video of Democrats booing the State of the Union.
The scoffs begin around the 3:20 mark.
https://www.youtube.com/watch?v=-Cf8agqSCao?feature=oembed
Democrats resisted Trump's State of the Union in other ways too.
In addition to Democrats booing the State of the Union, many brought Dreamers to the event as their guests. It sent an important message about protecting the undocumented immigrants brought to the U.S. as children.
Thank you to the members of Congress who resist and fight for what's right. We were booing right along with you from home.