Demi Moore's daughter Tallulah Willis channeled her iconic Ghost haircut, and we're seeing double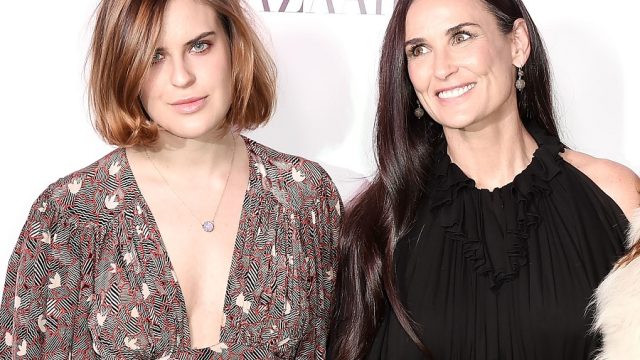 With celebs like Zoë Kravitz and Ashley Benson shearing off their long locks, going short is shaping up to be a major hair trend this season. Tallulah Willis just joined in on the trend, too—but for her, the hair transformation is really an homage to her mom, Demi Moore, who iconically rocked a pixie cut in the early '90s.
On December 1st, Willis debuted her new cut in an Instagram slideshow, alongside a couple of pictures of Moore rocking a similar cut in the 1990 movie Ghost.
"we did the demi," Willis captioned the post.
Between the super-short cut, long bangs, and killer profiles (hello, jawlines!), the mother-daughter duo's resemblance is uncanny. Now all Willis needs is a pottery wheel, Patrick Swayze's ghost, the Righteous Brothers' "Unchained Melody," and the transformation will be complete.
This isn't the first time Willis has channeled her mother's famous style. Back in 2015, she rocked a shaved head, à la Moore in the 1997 movie G.I. Jane. Moore sheared Willis's head herself because there's no bonding experience quite like your mom giving you an at-home haircut.
Even though their relationship is strong now, Willis and Moore have undergone a few tribulations in the past. On a recent episode of Jada Pinkett Smith's Red Table Talk, Willis, Moore, and Rumer Willis, Moore's eldest daughter, talked about their tense relationships as the girls were growing up. "I didn't know her very well," Willis said of her larger-than-life mom.
The family also opened up about both Willis and Moore's struggles with addiction. When she was 15, Willis says that she "almost died from alcohol poisoning." She ultimately sought treatment, which led to a reconciliation between her and her mother.
This makes Willis's stylistic homage to her mom all the more meaningful.