Demi Moore, Sarah Paulson, and Connie Britton all spoke out to remind us the arts are SO important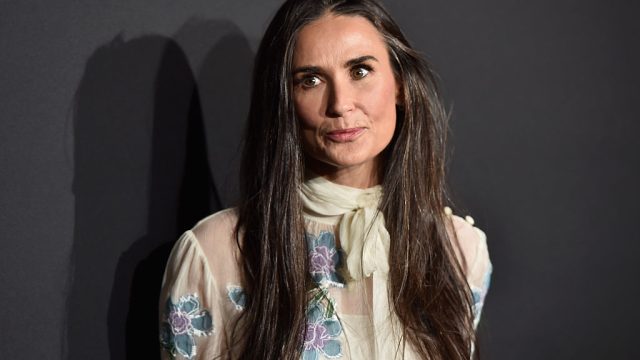 Yesterday evening, stars gathered to celebrate a new short film Past Forward by renowned filmmaker David O. Russell, who made the film for Prada. The guests included several fabulous actresses that we love, including Demi Moore, who insisted the arts are more valuable than ever. Demi's words came on the heels of the presidential election and the division surrounding it. Some of the other awesome women at the event joined Demi in her sentiments, including Sarah Paulson and Connie Britton. We are so happy to have such incredible, positive women to look up to, because we need all the inspiration we can get.
Demi Moore expressed her love of art as a powerful force for change in a tough time.
Of the current world, Demi said, "We are living in a really uncertain time, and sometimes when we are being faced with too much negative reality, we need a little bit of a break. I really believe the arts can bring people together, and it has the power to affect change. With so much uncertainty, fashion and films and art offer beauty and hope."
That's such a powerful message, because it's so easy to feel stifled in times of turmoil. We need to be harnessing our feelings and experience into our own art, as well as enjoying the art of others.
Sarah Paulson joined in, giving us ways to harness our individuality.
Sarah said, "The only solace that we can find sometimes is our individuality, and then sometimes that brings us together with other people with their individual take on dressing, eating, movie watching, book reading, all of it. So I think in times likes this, it can be an interesting respite."
That makes us feel better, because sometimes we feel guilty taking time to enjoy the things that we like. But it's more important than ever to not only fight to protect those things, but to also enjoy them and share them with others.
Finally, Connie Britton joined in to say that art makes change seem more possible.
Connie said, "Through the arts, people have freedom to make change, and that's empowering. So now more than ever we need to support each other, love each other, and keep our values clear. I'm really hopeful."
Well, if Connie is hopeful, then so are we.  We feel very empowered by these ideas to use our own talents and ideas to create change.
All these incredible ladies remind us to keep expressing ourselves, which is so important.
Thanks Demi, Sarah and Connie for reminding us to keep on creating and engaging with art.