Demi Lovato's mom opened up about Demi's overdose for the first time in a heart-wrenching interview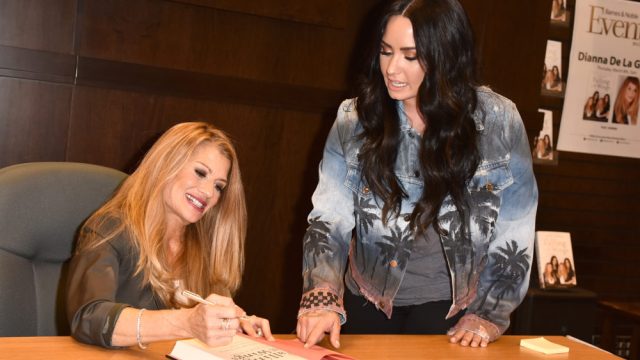 More than two months after Demi Lovato was rushed to the hospital after a near-fatal overdose, her mother, Dianna De La Garza, has broken her silence about the traumatic event. During an interview on Newsmax TV, she recalled the chilling moment she learned of her daughter's overdose, and detailed not knowing whether Demi would make it for several days.
Although De La Garza was candid about the events that took place on July 7th, she admitted that it's still difficult for her to talk about. She said she initially found out that something had happened to her daughter when texts began pouring in from friends asking if she was okay. Then came the phone call from Lovato's assistant, Kelsey Kershner, who officially broke the news.
"She said, 'Demi overdosed,'" De La Garza recalled. "I didn't know what to say, it was just something that I never, ever expected to hear as a parent, about any of my kids. And I hesitated to ask, but I had to ask her, I remember it just seemed like the words took forever to come out of my mouth. I said, 'Is she OK?'"
Kershner paused for a second and said that Lovato was conscious but not responsive, which is when De La Garza knew things were serious.
"We ran into the emergency room to be by her side, and she just didn't look good at all," she continued. "She was in bad shape, but I said to her, 'Demi, I'm here. I love you.' At that point, she said back to me, 'I love you too.'"
De La Garza went on to say that they didn't know whether or not Lovato would survive for the next two days. Thankfully, the 26-year-old recovered and De La Garza said she owes her daughter's life the team of doctors that worked to save her, as well as the "millions of prayers that went up that day."
Watch her interview below:
https://www.youtube.com/watch?v=wsyJR10PMHM?feature=oembed
After 10 days in the hospital, Lovato was released and immediately checked into rehab, where she has been seeking treatment since being discharged. De La Garza offered fans an update on her recovery, confirming that Lovato is doing well.
"She's happy, she's healthy," she revealed. "She's working on her sobriety and she's getting the help she needs, and that in itself encourages me about her future and about the future of our family."
We're keeping Lovato in our thoughts and sending her all our love as she continues to heal and recover.