Demi Lovato's Instagram is popping off with bikini photos lately, and we love this display of body confidence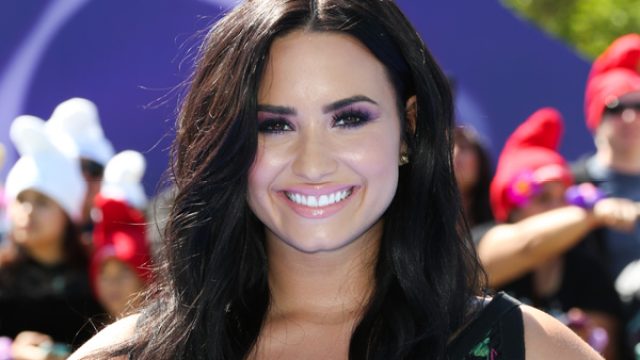 Summer is definitely coming and that means it's bathing suit season! Actress and singer Demi Lovato has been sharing bikini photos a LOT lately, and we love her body confidence.
All of her body empowering pics are definitely giving us inspiration to rock what we've got — bikini or one-piece style.
On Saturday, the "Cool For the Summer" singer revealed pretty much why she's always been cool for the summer. She donned a vibrant orange one-piece that had a sexy plunge neckline and it's SO hot.
"Don't know if it's physically possible for me to get any more tan…." Lovato captioned the photo.
https://www.instagram.com/p/BTNN0cclTho
Like being too tan is actually a problem? We don't think so! (Pro-tip: You can pick up a bathing just like it, here.)
On Friday, the Smurfs: The Lost Village actress shared another fierce bathing suit selfie, and we're kind of obsessed. In addition to showing off her curves and a cute white suit, Lovato shared an empowering body message.
"No filter no edit, love your body the way it is ?," she wrote.
https://www.instagram.com/p/BTKWRTLFeHJ
Okay, these are definitely words to live by.  No need to edit…Lovato doesn't do it and now we're jumping on board her self-love train.
Of course, these two bathing suit snaps aren't the first from the former Disney Channel star. The New Mexico native is all about those pre-summer suit pics and we're all for it.
If you've got it, flaunt, right?
"Why not? ?," the 24-year-old actress wrote on another steamy one-piece photo.
https://www.instagram.com/p/BTGEpjzFXDN
This suit definitely shows off more cleavage, and Lovato doesn't care, because she loves her body.
"So ready for summer ☀️??," she wrote alongside another picture in the same suit.
https://www.instagram.com/p/BTFloR5F3fA
After seeing all these sassy swimsuit options and positive body vibes from the singer, we're also SO ready for summer.