Demi Lovato reveals she's joining Will & Grace's final season, squashing those VMAs feud rumors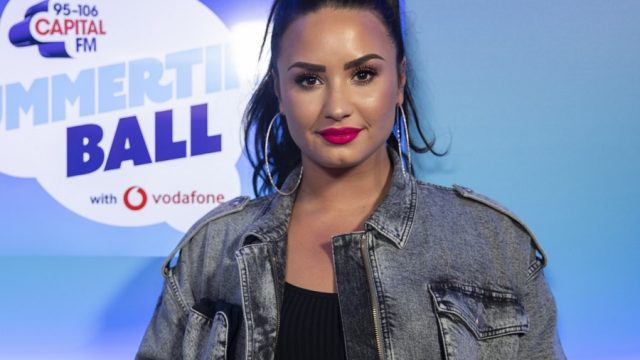 Drama queens of the world, prepare to be a little disappointed. Despite rumors claiming otherwise, Demi Lovato did not miss the MTV VMAs on Monday, August 26th, because she's feuding with Taylor Swift. Actually, the reason for the Eurovision star's notable absence from the awards show was a lot more positive: She'll be joining Will & Grace's upcoming third season, and on Monday, she was filming part of her three-episode guest arc. 
In case you were too distracted by Lizzo's epic performance to catch those feuding rumors, let's back up for a second and analyze the alleged Lovato-Swift feud.
Although Lovato was a nominee in the VMA's "Best Dance" category for "Solo," on which she collaborated with Clean Bandit, the actor-singer was noticeably absent from the 2019 show. That night, Lovato posted an Instagram Story about skipping the ceremony.
"I skipped the VMA's for a REASON. Well that and I just hate awards shows. Lovato posted her Story.
The post went up right after Swift won the night's Video of the Year Award, which prompted Swift fans to believe that Lovato was "being shady" toward the Lover singer. However, Lovato posted that she sat out the VMAs for a work project.
"Okay I can't tell you guys what I'm doing today (you'll find out super soon tho) but it's making me SO HAPPY. I'm having SO MUCH FUN and I can't stop laughing. Now go come up with crazy ass theories as to what it might be!!!" she wrote.
Still, some Swifties took to Twitter to express their anger. "I feel like Demi Lovato just needs to get over herself and join in on the goddam [sic] celebration that is Taylor Swift winning two VMA awards for the 'You Need To Calm Down' music video," said one fan, while another tweeted, "Demi Lovato being shady about Taylor Swift winning Video Of The Year at the #VMAs. ARE WE SURPRISED?"
To be fair, Lovato and Swift's relationship has been pretty rocky, and it didn't get any smoother when Lovato defended her new manager, Scooter Braun, whom Swift accused of "incessant, manipulative bullying."
But just a bit after posting that first, cryptic message, Lovato hopped back on her Stories to squash the Swifties' "shady" theories.
"Btw... I didn't 'shade' anyone last night. My REASON for not going is because I'm literally living my dream being on Will & Grace rn so stop reaching," she wrote.
After announcing Lovato is joining the rebooted sitcom's final season, three of the show's stars tweeted their excitement about Lovato's arc.
And on August 27th, Lovato posted an Instagram pic of herself on Will & Grace's iconic set.
https://www.instagram.com/p/B1qzV2IBvM3
We don't have a ton of information about Lovato's role, but Entertainment Weekly reports that she "will play the role of Jenny, a guarded gal who comes into the life of Will (Eric McCormack) in an unexpected way." Season 3 of the Will & Grace revival is slated to air sometime in 2020.