Demi Lovato gave her topless look a surprise twist at the 2017 MTV EMAs
Wearing a suit jacket with no shirt underneath is a red carpet staple. Celebrity women love a well-tailored sexy suit worn without anything underneath. It's feminine and masculine all at once and allows you to show just a hint of skin, while wearing a look that says, "but I'm still all business." Lovato took a style that could have drowned her small frame and made it pop by revealing her chest. Lovato's topless look at the 2017 MTV EMAs is a fun twist on the style because she went braless under a too-big suit. Her baggy pants came up past her waist and the jacket hung on her shoulders in an "I stole my boyfriend's clothes" type of way. The final result is a look that is sexy meets slouchy with a mix of red carpet glam smashing up against high fashion. Also, do we spy some expert highlighting and strobing on her chest?
Lovato was on hand at the European award show as she was nominated for Best Pop Award (the award went to Camila Cabello) and to perform her songs "Sorry Not Sorry" and "Tell Me You Love Me." For the performance, Lovato switched into diamond-encrusted pants and a peplum top.
We should also point out that Lovato has been rocking waist-length Cher-inspired long locks lately.
Check out Lovato's 2017 MTV EMAs look:
https://www.instagram.com/p/BbbiRHoFCEu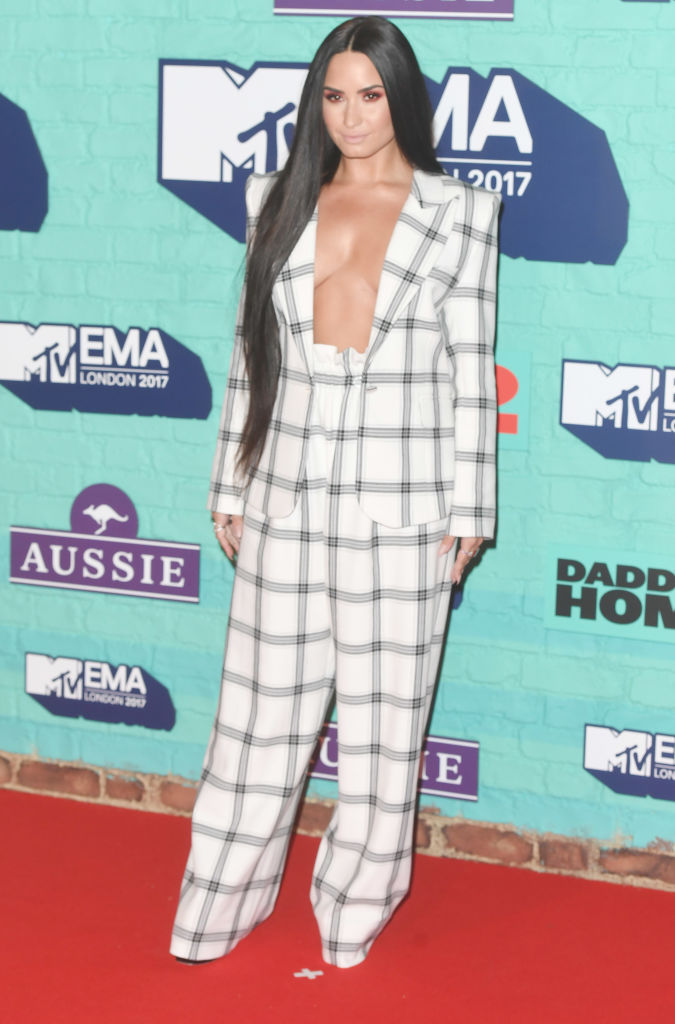 And watch her killer performance below:
The thing about a look like this is that Lovato pulls it off because she's confident. Your weight, shape, or bra size does not matter — if you believe you can slay this look, then you can.