7 times Demi Lovato has bravely spoken about her sobriety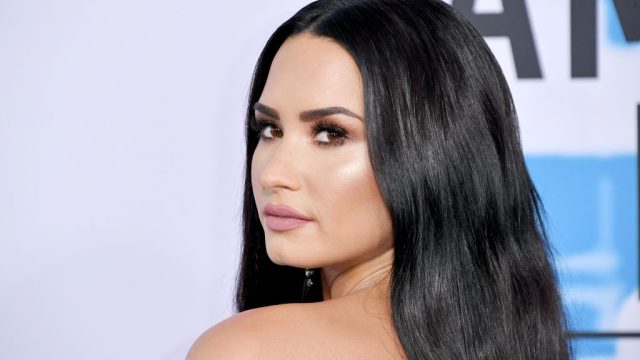 Demi Lovato's honesty has always been one of the most endearing things about her. Her vulnerability and commitment to keeping it real are evident in everything she does, from her song lyrics to her interviews to her Instagram posts. And nothing has kept her more honest and real than when she's been brave enough to discuss her sobriety and the struggles she's endured.
Her words have perhaps taken on even more meaning since being rushed to the hospital in July 2018 after suffering an overdose. With news from TMZ that the singer is selling her house where the incident took place, it seems as if Lovato wants to make a fresh start. The path to sobriety is not an easy one, as Lovato well knows, but given how open and real she's been about what she's experienced in the past, we're hopeful that this new journey will be illuminating and healing for her. And no matter what, we are here for her.
Here are seven times Lovato has spoken about her sobriety:
1When she talked about hitting rock bottom at age 19.
https://www.instagram.com/p/BkP-lV4lbCC
In 2013, Lovato opened up to Access Hollywood about hitting rock bottom when she was just 19 years old.
"I was going to the airport and I had a Sprite bottle just filled with vodka and it was just nine in the morning and I was throwing up in the car and this was just to get on a plane to go back to L.A. to the sober living house that I was staying at…I had all the help in the world, but I didn't want it. When I hit that moment I was like, it's no longer fun when you're doing it alone. I've really never talked about this stuff before… I don't know if I should be sharing this. I think at 19 years old, I had a moment where I was like, 'Oh my God… that is alcoholic behavior. [It's] no longer, 'I'm young and rebellious and out having fun,' it was, 'Wow, I'm one of those people…I gotta get my s*** together.'"
In 2016, Lovato told People that she has a team of supporters who help her stay sober and on top of her bipolar disorder.
"That relationship is ongoing—it's not something where you see a therapist once or you see your psychiatrist once, it's something you maintain to make sure that you want to live with mental illness. You have to take care of yourself…every day is a work in progress, so hopefully I make it to 2017 with my sobriety. I take it one day at a time and for today, I'm doing great."
On The Jonathan Ross Show, Lovato revealed how her parents gave her the wake-up call she needed to get sober.
"I knew that I had a lot of life ahead of me but one of the main reasons of getting sober was so that I could be around my little sister because my mom and dad [said I couldn't be around her] if I was doing stuff…This time I knew… I had hit rock bottom and I just needed to do this for myself."
https://www.instagram.com/p/BkbITsKDmvn
4 When she opened up about her eating disorder relapse after her breakup with Wilmer Valderrama.
In her documentary, Simply Complicated, she spoke candidly about the effects of her breakup.
"When we broke up, [bingeing and purging was] one of the first things I did. When I feel lonely, my heart feels hungry and then I end up binging and I don't know how to figure out how to be alone."
https://www.instagram.com/p/Bk3w9j9lfBJ
5When she was candid about how she almost fell off the wagon at the 2017 Met Gala and left to attend an AA meeting.
In 2018, Lovato told Billboard about a time her sobriety was almost compromised because of a negative interaction with a fellow celeb.
"This one celebrity was a complete bitch and was miserable to be around. It was very cliquey. I remember being so uncomfortable that I wanted to drink. I changed my clothes, but I still had my diamonds on—millions of dollars of diamonds on in an AA meeting. And I related more to the homeless people in that meeting who struggled with the same struggles that I deal with than the people at the Met Gala—fake and sucking the fashion industry's dick."
6When Lovato released her single "Sober" with jarring lyrics that seemed to reveal she'd relapsed.
Shortly before her relapse in summer 2018, Lovato released a shocking single. She sang,
"Momma, I'm so sorry, I'm not sober anymore
And daddy, please forgive me for the drinks spilled on the floor
To the ones who never left me
We've been down this road before
I'm so sorry, I'm not sober anymore."
7When she took to Instagram for the first time following her overdose in July 2018.
https://www.instagram.com/p/BmHH69KlY3L
Lovato spoke openly about her relapse and path to recovery.
"I have always been transparent about my journey with addiction. What I've learned is that this illness is not something that disappears or fades with time. It is something I must continue to overcome and have not done yet. I want to thank God for keeping me alive and well. I now need time to heal and focus on my sobriety…I will keep fighting."
We have no doubt she will.