Demi Lovato heartbreakingly says this is the moment she knew she needed to get sober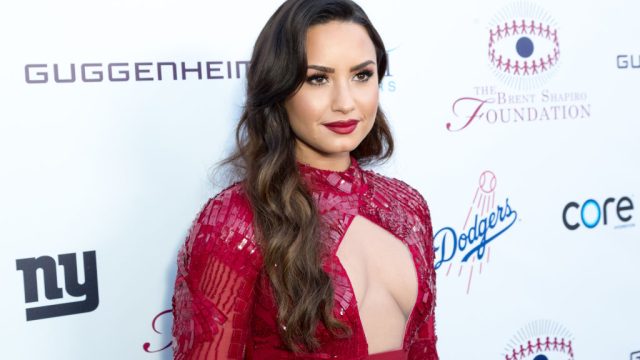 We all know that sometimes it takes that one hard, metaphorical drunken fall to wake us up to the sober truths. For Demi Lovato, that cathartic moment was an intervention with her parents that left her to make the decision of her life.
In a recent interview with The Jonathan Ross Show, Lovato detailed her final family intervention before getting sober. The singer and songwriter, who celebrated five years of sobriety earlier this year, got real and vulnerable about her past issues with addiction and depression.
During the early stages of her career, Lovato battled with bulimia, manic depression, and drug abuse. At 21 she reached the height of her addiction, and her parents reached the height of their patience. They told her she needed to get her life together.
In an effort to help their beautifully talented daughter, Lovato's parents gave her the ultimatum.
https://www.instagram.com/p/BZbZlvZFv2t
She had to get sober or risk not seeing her younger sister, Madison De La Garza.
"I knew that I had a lot of life ahead of me but one of the main reasons of getting sober was so that I could be around my little sister because my mum and dad [said I couldn't be around her] if I was doing stuff, Lovato said.
The singer said it was the moment of total rock bottom that made her realize the severity of her situation.
https://www.instagram.com/p/BRrP4ZGlb9V
"This time I knew… I had hit rock bottom and I just needed to do this for myself."
After a recovery treatment in 2011, Lovato took the reins of her life.
She became heavily involved in giving back and maintaining the fullness of her sober life. In fact, she now co-owns CAST Centers, a recovery center where she sought treatment.
In the past, Lovato was more candid about her experiences with mental health and drug abuse. She says her newest album, Tell Me You Love Me, is her most vulnerable and honest collection of work to date. It's "more mature and more raw," she told The Hollywood Reporter.
https://www.instagram.com/p/BZpKYbOFpOH
On this album, Lovato completely breaks open and bears her soul in regards to past pains.
As she reveals herself more in her vulnerabilities, her fans drink in more of her evolution as a woman, an artist, and a human being.
For someone who thought she wouldn't make it to 21, the now 25-year-old "Sorry Not Sorry" singer has proved herself, and the world, more than alive. Skin glowing like a glazed donut, confidence oozing in her walk, and edges being snatched with every falsetto note — it's safe to say that the intervention that was the most dreadful was the one that saved her life. And we're so glad it did.