Demi Lovato addresses her relapse in her new single "I Love Me"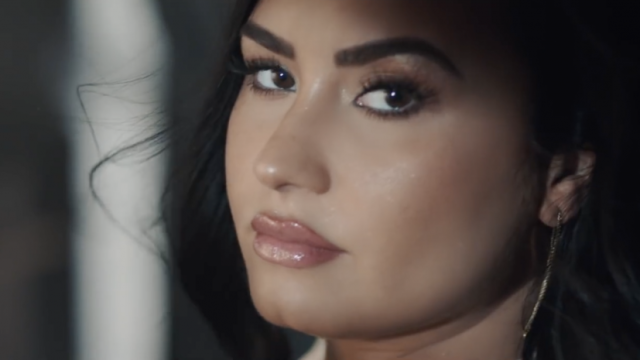 Demi Lovato is unafraid to be transparent with her supporters, and has recently opened up about her struggles with her body image and her July 2018 overdose. Now, she's released a new single that ties all of her experiences together. Demi Lovato's "I Love Me" is a self-love anthem that promotes just loving yourself, because that's the love you need to rely on.
"I'm a black belt when I'm beating up on myself/But I'm expert at giving love to somebody else," Lovato sings. As she explains through her lyrics, the 27-year-old singer can really go back and forth when it comes to feeling good about herself and not—which is something everyone can most likely relate to.
She sings about how she's too good at listening to her haters, how she's actually her worst critic, and how she compares herself to others.
Still, in "I Love Me," Lovato is able to recognize all of that and comes to the conclusion that loving herself—and being aware of that love—is the most important thing. "I'm a ten out of ten even when I forget," she sings.
Through "I Love Me," Lovato is sharing what she's recently learned about acceptance and preaching the good word. In a February interview on Ashley Graham's podcast Pretty Big Deal, Lovato explained how a dietician suggested she focus on "body acceptance" rather than "body positivity"—the difference being that Lovato no longer tries to convince herself to feel beautiful everyday, but instead appreciates and respect her body and herself.
The song's lyrics are pretty clear in their intention, but the video for the song makes things even more literal with the ambulance shot being especially poignant.
Earlier this week, Lovato spoke about her recent overdose on an episode of The Ellen DeGeneres Show. She explained that after six year's sobriety, her relapse happened at a time when she didn't have the support she needed and was reminded of the abandonment issues she's had since childhood.
She ended her interview with a message for anyone going through something similar, and it mirrors her new song's lyrics: "If you do go through this, you yourself can get through it. You can get to the other side, and it may be bumpy, but you are a ten out of ten, don't forget it. As long as you take the responsibility, you can move past it and learn to love yourself the way you deserve to be loved."
We love her, this message, and her new song. We'll be playing "I Love Me" on repeat from now until forever.
Lia Beck is a writer living in Richmond, Virginia. In addition to Best Life, she has written for Refinery29, Bustle, Hello Giggles, InStyle, and more.
Read more