Demi Lovato Says Naya Rivera's Santana Was "Groundbreaking" for "Closeted Queer Girls" Like Her
It's clear that so many other fans agree.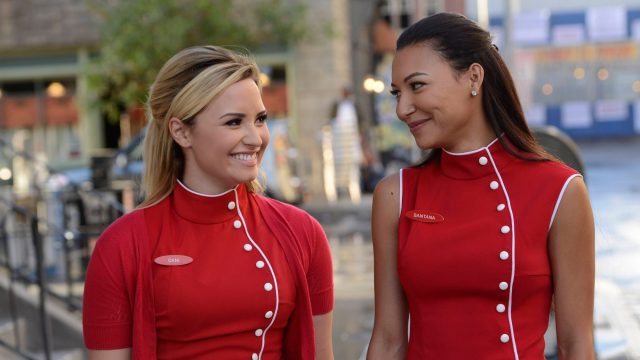 Yesterday, July 13th, Naya Rivera's body was recovered from Lake Piru five days after the former Glee star went missing during a boating trip with her son, Josey. Now, fans, family, and friends, including Demi Lovato, are coming together to remember Rivera's life and acting career—both cut much too short.
Lovato, who played Rivera's love interest for several episodes in Glee Season 5, specifically wanted to draw attention to how Rivera's character, Santana Lopez, drew much-needed positive attention to the queer community and helped countless "closeted queer girls" feel seen, heard, and accepted.
"RIP Naya Rivera," Lovato captioned a July 13th Instagram post. "I'll forever cherish the opportunity to play your girlfriend on Glee. The character you played was groundbreaking for tons of closeted queer girls (like me at the time) and open queer girls, and your ambition and accomplishments were inspiring to Latina women all over the world. My heart goes out to your loved ones at this time."
And based on the overwhelming amount of tributes, it's clear that Rivera's portrayal of Santana was a positive force in so many other queer fans' lives, just like Lovato's.
Twitter user @FineLineLesbian spoke similarly to Lovato, thanking Rivera for making her feel "less alone": "I used to watch this on repeat as a young closeted lesbian so that I would feel less alone….Thank you naya rivera. I love you."
Others credited Rivera's Santana for helping them untangle their sexuality and actually used Santana's coming-out scene to come out to their own family.
Rivera playing a queer woman of color in 2011 was, as Lovato said, "groundbreaking" and helped shape so many people into who they are today.
In 2017, Rivera wrote a letter to the LGBTQ+ community via Billboard, stating that it's been an honor to play Santana, knowing how deeply her character affected the lives of fans.
"I have been so incredibly fortunate to portray a character on television that has meant so much to so many within the LGBTQ community," she wrote. "Off screen, I am a woman who stands in support of equality, and equal rights for all. It has been one of the great blessings in my life to receive such love and touching stories as a result of my portrayal of Santana Lopez on Glee."
The community sadly lost a proud ally, a wavemaker, and a role model for a generation of both openly and closeted queer women. Thank you, Naya Rivera.