Demi Lovato opened up about her "perfect" kiss with Kehlani — and it wasn't planned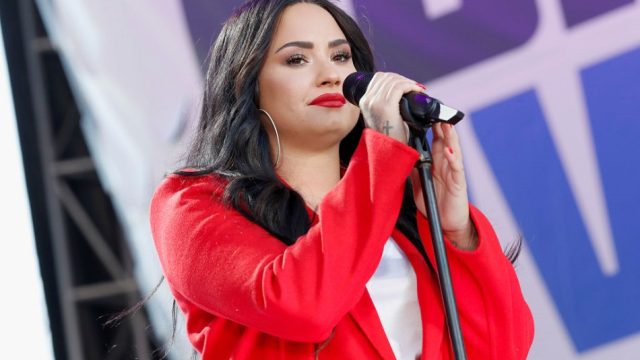 This week, the internet was buzzing over the kiss that Demi Lovato and Kehlani shared on stage during a show in Newark, New Jersey on April 2nd. Lovato, who just wrapped up the United States portion of her Tell Me You Love Me Tour, opened up about the moment while chatting with Nick Grimshaw on BBC Radio 1's The Breakfast Show, and said that the memorable kiss wasn't planned ahead of time.
Plenty of fans made sure to get video of the sweet moment to share via social media. In the video, Lovato and Kehlani are in a bed on stage, surrounded by several dancers. Kehlani not-so-sneakily comes up behind Lovato, rubs her shoulders, and the two share a kiss.
"She came up behind me. I had no idea! Lovato revealed. "She told me she was going to be watching the show, so I was looking for her, and I didn't see her out there so I was like, 'OK, I guess she decided to go or whatever.' And then all [of a] sudden I feel hands on my shoulders for this song 'Lonely.' I look up and it's her."
After the kiss, the two embraced — and you can just tell they have so much love and respect for each other.
https://www.instagram.com/p/BhF7hI0lw_i
"We just kissed each other. It wasn't planned. She totally surprised me and it was perfect, it was awesome." Lovato added.
Grimshaw added that people love it when pop stars kiss, reminding us of the mayhem that ensued when Drake and Madonna locked lips at Coachella.
We think we love Demi and Kehlani's kiss even more now that we know it was a total surprise!