Demi Lovato got candid about the "by far most emotional" part of her new music video to shoot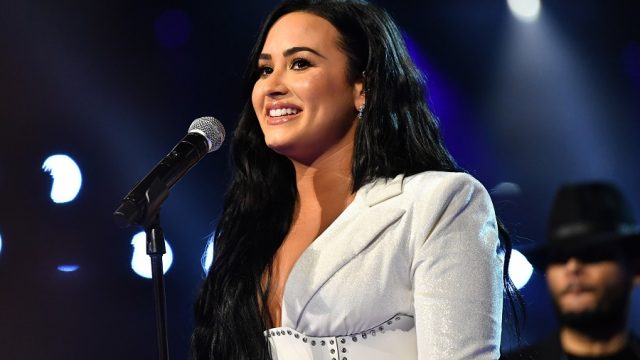 Earlier this week, Demi Lovato released her new single/self-love anthem "I Love Me." The accompanying music video is rife with Easter eggs referencing significant moments in her life and career, but there was one scene in particular that Lovato found "the most emotional" to film: a reference to her drug overdose and hospitalization in 2018.
In the scene, Lovato walks past a person on a gurney being wheeled into an ambulance, then briefly puts her hand on the person in acknowledgment. On March 9th, Lovato wrote about the significance of this scene, as well as the video as a whole.
"This video was so special to me," she wrote. "@hannahluxdavis absolutely killed this. It was important for me to add special easter eggs that represent certain times and chapters in my life. This one by far was the most emotional for me to shoot."
She continued, making a statement about everyone who stood with her during her recovery.
"Thank you to everyone who's stuck by my side and waited patiently for my return. We're back, and we're stronger than ever ❤️ #ILoveMe."
https://www.instagram.com/p/B9hmbwLBJE5
On March 5th, Lovato spoke with Ellen Degeneres about what led to her 2018 relapse after six years of sobriety. Lovato said that her "one-size-fits-all" approach to sobriety "worked for a long time. But I realized, over time, as [my] eating disorder was getting bad…over the years it progressively got worse and worse…it led to me being really unhappy. My bulimia got really bad. I asked for help, and I didn't receive the help that I needed."
Lovato also said that her team's inability to get her the help she needed "played on [her] fear" of abandonment, which stemmed from her relationship with her father. Three months later, she told Degeneres, she "ended up in the hospital with an OD."
But Lovato is nothing if not a fighter. That's abundantly clear in almost every interview she gives. But her warrior status is especially clear in her new music video, in which she faces some of the more difficult moments in her past head-on. And her fans, and some of her closest friends, are rallying behind her in support.


We'll add our names to the roster of Lovato's biggest supporters.