Demi Lovato Is Engaged, and the Romantic Moment Was Captured in Photos
"I've never felt so unconditionally loved by someone in my life."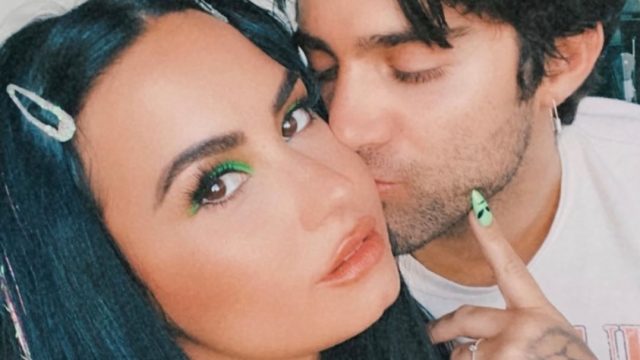 Given all the darkness that's going on in the world, it's nice to have a good, old-fashioned piece of positive celebrity news. You know, weddings, babies, interesting new fashion choices, engagements. So, a big "thank you" and an even bigger "congrats" are in order for Demi Lovato, who announced her engagement to actor Max Ehrich on Thursday. Love is in the air! Positivity is spreading! Drink it up while you can!
Lovato announced the news with a series of photos taken on a beach by her friend, photographer Angelo Kritikos, soon after Ehrich proposed. (It includes a closeup of her ring. We know some of you are wondering.) She also posted a lengthy caption in which she talks about falling in love with Ehrich as soon as she met him and thanks him for loving her as she is.
"I've never felt so unconditionally loved by someone in my life (other than my parents) flaws and all," Lovato writes. "You never pressure me to be anything other than myself. And you make me want to be the best version of myself. I'm honored to accept your hand in marriage."
I love you more than a caption could express but I'm ecstatic to start a family and life with you."
Lovato and Ehrich got together in March of this year, according to Us Weekly. A source told the publication in late March that they'd "met a few weeks ago," so it sounds like they got serious quickly—especially since they ended up quarantining together. That's one way to get to know someone fast. Since then, they've been posting about each other on social media and they made a cameo in Ariana Grande and Justin Bieber's "Stuck with U" video.
Ehrich is an actor who previously starred on the soap The Young and the Restless from 2012-2015. More recently, he had roles in the Lifetime series American Princess and in the Netflix movie Walk. Ride. Rodeo.
It looks like Ehrich and Lovato are really looking forward to starting their next chapter together. To quote Ehrich's own enthusiastic Instagram post, "ahhhhhhhhhhhhhhhhhhh jeuejfjqjweuvu I'm so excited." (Okay, fine, he says a lot more than that, too.)