The internet is living for Demi Lovato and Christina Aguilera's duet at the 2018 Billboard Music Awards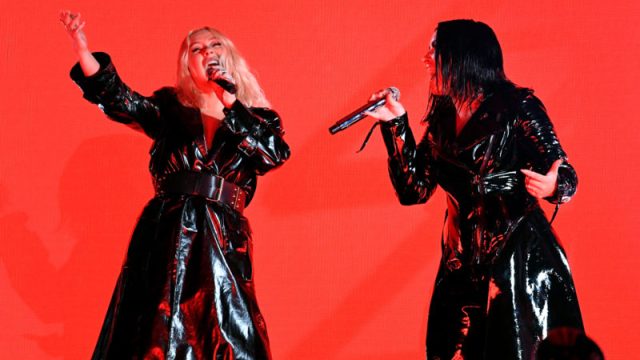 Since they dropped their collaborative single "Fall In Line" on May 16th, we've been anxiously waiting to watch Christina Aguilera and Demi Lovato share the stage at the 2018 Billboard Music Awards. And last night, May 20th, our patience paid off. Aguilera and Lovato not only brought down the house, but they then rebuilt a church in its place where we will forever worship them as the goddesses they are.
Their performance was exactly what we expected from these two female powerhouses and more. Dressed in black patent leather trench coats and surrounded by 1984-esque foot-soldiers, Aguilera and Lovato looked like supreme leaders having just conquered the world. And that's before we even get into the vocals.
In case you missed it, "Fall In Line" has all the makings of a feminist fight song and has already been added to our go-to playlist. The lyrics tell girls and women to speak their minds and be their true selves no matter what society may tell us.
You can watch the full performance below (and watch until the end to see Tyra Banks' reaction. She's officially all of us).
https://www.youtube.com/watch?v=vZRIfqWoWGw?feature=oembed
We feel you Tyra. We feel you.
Obviously, Tyra wasn't the only one freaking out over the duet of the century. Many took to Twitter to share their reactions.
https://twitter.com/udfredirect/status/998405737519824897
We're going to need some time to recover from Aguilera and Lovato's performance (which is proving difficult because we keep playing it on repeat). Wish us luck and pray for another collab from these two soon!