Demi Lovato Sent a Love Letter to Her New Boyfriend on His Birthday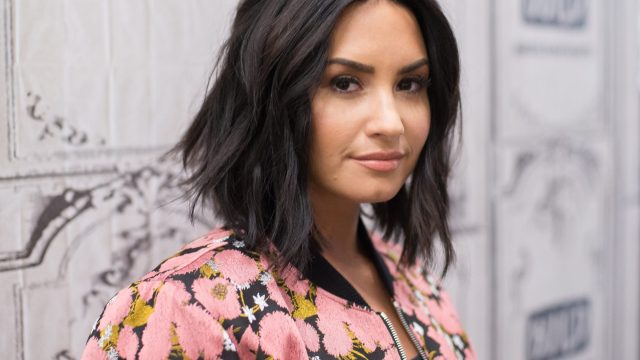 Demi Lovato is full-on in love, and she's shouting it from the rooftops. On June 24th, the "I Love Me" singer posted a birthday message for her boyfriend, Max Ehrich, on Instagram. Lovato was in total gush-mode, and we're 100% here for it. Not only did she share 10 adorable photos (including lots of cheek kisses from The Young and the Restless star Ehrich), but she wrote a heartfelt message detailing what she loves about her new beau.
Lovato started off her Instagram message (or as we like to call it, her legit love letter to Ehrich) by saying she wanted to be present for his birthday, so she'd leave this note quickly.
"Being with you makes life SO MUCH FUN ??" Lovato wrote. "We literally act like hooligans on the daily and don't give a FUCK if we're embarrassing ourselves if others are around!! I spend my days with you, bare faced and in a bathing suit.."
"I feel unconditionally loved and accepted by you in a way that I've never felt before," Lovato continued.
"I can't explain it or you.. you're indescribable, you beautiful man. Inside and out you are jaw-droppingly gorgeous.. You're also such a positive lil beam of light in my life and I can't wait to make more birthday memories together.. here's to the future baby. I love you," Lovato wrote.
The star concluded by jokingly telling her followers to swipe through the photos to see her dog Ella "literally trying to steal [her] man."
https://www.instagram.com/p/CB1agbfB1qu/
These photos are seriously beautiful (and we're here for the dog photobombs), but what we love the most is how happy Lovato appears to be with Ehrich.
Rumors of the pair's relationship began in early March when they sent each other flirty messages over social media. Then, Lovato crashed Ehrich's Instagram Live, which led fans to believe that the couple was quarantining together in LA. But what finally confirmed their relationship in early May was a lovey-dovey cameo in Ariana Grande and Justin Bieber's music video for their collab, "Stuck With U."
In recent years, Lovato has been a queen of breakup ballads, so we can't wait to hear the love songs Ehrich likely inspires.