Demi Lovato is a total Jiu-Jitsu badass, and we feel like her next career move should be action star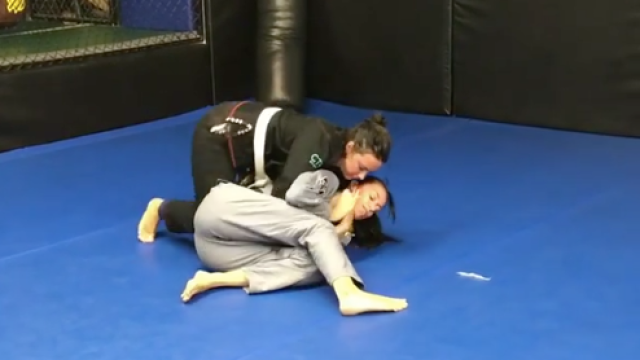 Demi Lovato is into fitness in a big way. The singer already has a line of super-cute workout clothes with Kate Hudson's Fabletics, and she's always sharing her workouts on social media. Her latest video, however, might be the most badass one yet. Demi Lovato took on a professional in Jiu-Jitsu and kicked ass — big time.
We always knew Demi Lovato was a tough chick (have you seen her awesome video for "Confident?" It's like a mini action flick with a killer soundtrack), but that's not just for show. Lovato loves working out and often mixes boxing and martial arts into her routine. And she's definitely picked up a few pointers: Lovato shared a video on social media that shows how much she's learned thanks to all those lessons.
https://www.instagram.com/p/BUx7shnFPIv
"Thank you @officialdaniellemartin for letting me kick your butt ??," Lovato jokingly captioned the post. But she wasn't joking in the video, she faces off against Jiu-Jitsu teacher Danielle Martin. The two spar for a few seconds before Demi Lovato grabs Martin, effectively flipping her over her shoulder with a single move.
https://www.instagram.com/p/BU2JESlFYbW
This isn't the first time Lovato has shared a video that shows her butt-kicking prowess. Besides her regular workouts, Demi Lovato is also a proficient boxer — and has no trouble throwing punches once she steps in the ring.
https://www.instagram.com/p/BUcva1DlkZM
Between Demi Lovato and Wonder Woman, we're getting serious girl power vibes. We'd definitely check out an action movie starring Demi Lovato. In the meantime, anyone else up for a trip to the gym?