Demi Lovato opened up about how her newest tattoo represents her "spiritual awakening"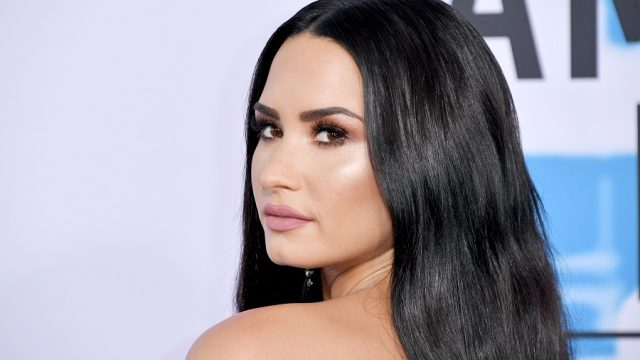 Update, February 12th, 2020, 9:27 a.m. ET: Now that Demi Lovato has ended her social media blackout, she's opening up about some of the moments in her life that happened during her time off Instagram. The singer said she put all her attention into her two recent, powerful performances, first at the 2020 Grammys and then at the Super Bowl, and now she's addressing everything she missed while she was in preparation mode. One of those things she's now ready to talk about is her newest tattoo.
Tattoo artist Alessandro Capozzi posted a picture of Lovato's new ink on Christmas Day of 2019. But now, the singer is telling her own story of how the tattoo came to be and what the "special experience" of getting it has meant to her.
"Having a fallen angel being lifted by 3, pure, angelic doves (the Holy trinity) as her inner light is being guided by a higher consciousness, and the disintegration of her dark wings was representing the darkness I was shedding," Lovato explains on her Instagram.
As much as she loves the tattoo now, when she walked into the parlor, she had "no idea" what she was going to get done.
"Getting tatted by [Capozzi] was an experience I've never had before...no idea what I was going to get done, I told him about my life and where I was at in that moment and we created a combination on images that best symbolized the spiritual awakening I was having," she wrote.
https://www.instagram.com/p/B8cX6PxBpvR
The only bummer? Because of the angel tattoo's placement on her back, Lovato laughed that she can't physically see it: "Thank you for this special experience…the only bummer is I can't physically see this amazing artwork because it's on my back!"
Lovato has several tattoos, including the word "survivor" on her neck, and we think her positive experience may lead to more collaborative ink with artist Capozzi.
Original post, December 27th, 2019: There are lots of rituals you can do to close out one year and welcome the next: journaling, refreshing your sacred altar, dancing and Champagne-ing, or marathoning your favorite sitcoms. Or, if you're Demi Lovato, getting a new tattoo (or two) that celebrates the strength you harnessed to navigate one hell of a year.
On December 25th, Rome-based tattoo artist Alessandro Capozzi posted a picture of Lovato's new ink, a black-and-grey angel being carried by three doves. The tattoo sits between Lovato's shoulder blades, right where her own angel wings would be.
According to Capozzi's caption, Lovato's tattoo is more than just a gorgeous piece of body art—though it is that, too. The angel is symbolic of "a rebirth of the spirit."
"For the incredible @ddlovato "Divine Feminine ✨ Destruction Effect, he captioned the post. "We created this piece together to represent a rebirth of the spirit. The dark wings represent the bad times, their fading away is how she moved forward. The light from within represents the inner strength necessary for the change and the doves, pulling her up, symbolize the reach of an higher state of consciousness."
"Congratulations on your inspiring journey Demi, honored to have represented this for you," he added.
Lovato took a break from her own Instagram three weeks ago, when she posted a black photo along with the caption, "Next time you hear from me, I'll be singing." But Lovato did make a brief return to Instagram to express her gratitude on Capozzi's post.
"Thank you so much it's incredible and you are so extremely talented," she wrote.
As Capozzi's caption says, Lovato has certainly undergone her fair share of changes over the past couple of years. Last year, the singer was hospitalized after an alleged drug overdose, then sought treatment at a rehab facility. A couple of weeks after completing her treatment, Lovato opened up to fans about her continual struggle with addiction, mental health, and eating disorders.
"I have always been transparent about my journey with addiction," she wrote in an Instagram post that has since been deleted. "What I've learned is that this illness is not something that disappears or fades with time. It is something I must continue to overcome and have not done yet."
Earlier this month, Lovato and her boyfriend, model Austin Wilson, allegedly split after a few months of dating.
Just a few weeks later, Lovato debuted a "survivor" tattoo on her neck—which, like her newest angel tattoo, is a beautiful reminder of how much she's been able to overcome.
Lovato has seen some pretty major highs this year, too. In August, she revealed that she's been filming a three-episode guest arc on Will & Grace and that she was cast in Eurovision, an upcoming movie musical helmed by Will Ferrell. And we can't overlook Lovato's most recent Instagram post, which not-so-cryptically implies that the "Sorry Not Sorry" singer will be releasing new music next year.
We can't wait to see what 2020 holds for Lovato—both ink-wise and otherwise. We know she has the strength to achieve whatever she wants.