This airline banned puppies and kittens as emotional support animals—but don't get mad yet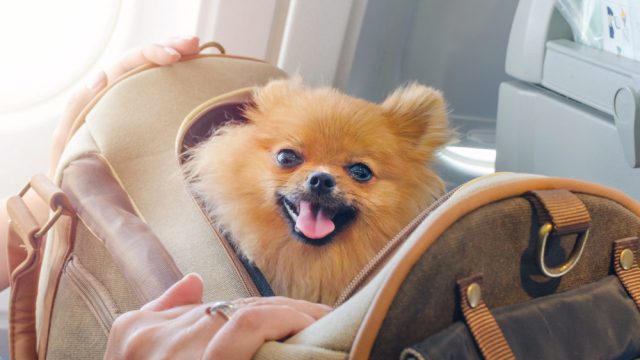 If you've traveled by air over the past few years, chances are you've encountered an emotional support animal or two. But while these cuddly companions can be a big comfort to passengers with anxiety and chronic health issues, they've also attracted a lot of criticism. Now, Delta Airlines is tightening the restrictions surrounding emotional support animals—starting with puppies and kittens.
According to CNN, starting on December 18th, passengers flying with Delta will not be allowed to bring emotional support animals younger than four months old. On flights longer than eight hours, emotional support animals of any age will be prohibited. A press release published by Delta on December 10th does note that if you bought your ticket before December 18th and have already requested a support animal, you'll still be allowed to travel as originally planned—as long as you're flying before February 1st.
The age restriction on traveling companions comes out of legitimate health concerns. The Center for Disease Control notes that dogs can't be vaccinated for rabies before they're three months old, while cats must wait until they're two months old. Once an animal gets their shots, they are not considered officially immunized until a month later. Delta's age restriction basically helps to ensure that animals on flights won't be spreading a deadly infection.
Additionally, in its announcement, Delta wrote that from 2016 to 2017, there was an 84% increase in accidents involving service and support animals on flights—including animals relieving themselves on flights and biting passengers. The ban on emotional support animals on long flights is likely a change made in reaction to this.
John Laughter, Delta's senior vice president of corporate safety, security, and compliance, said in the release that the airline would continue to review its policy.
"These updates support Delta's commitment to safety and also protect the rights of customers with documented needs–such as veterans with disabilities–to travel with trained service and support animals," he added in his statement.
For now, at least, it looks like we won't be seeing any more emotional support puppies on Delta flights.