12 Decor Items You Can Buy at Home Goods Right Now That Don't Say "Fall" (Literally)
Because no one needs anymore engraved ceramic pumpkins.
Blame it on our playful youth, but there's something about the month of September that screams "it's a new year." Perhaps because it's back-to-school season or that it's a refreshing change of wardrobes, flavors, and temperatures. It's also the kickoff to arguably the most fabulous time of the year: the holidays.
RELATED: 10 Reasons Why You're Dreaming About Your Ex
While fall decor shopping, you may also feel inspired to buy items that can teeter into your winter decor lineup or flawlessly transition from season to season. In other words, it's time for a Home Goods shopping spree.
To the lazy shopper, Home Goods may seem like the one-stop shop for kitschy fall decor. Well, it is. However, the retail store offers a lot more than coffee mugs emblazoned with the word "Fall," and "Hello, Pumpkin"-engraved charcuterie boards.
Whether you're shopping for glass pumpkins, cozy throws, or cake stands to display your desserts beyond the holidays, Home Goods has it. Browse the prettiest decor items at Home Goods below, tchotchkes not included.
Madison Industries 2×4 Harvest Truck Doormat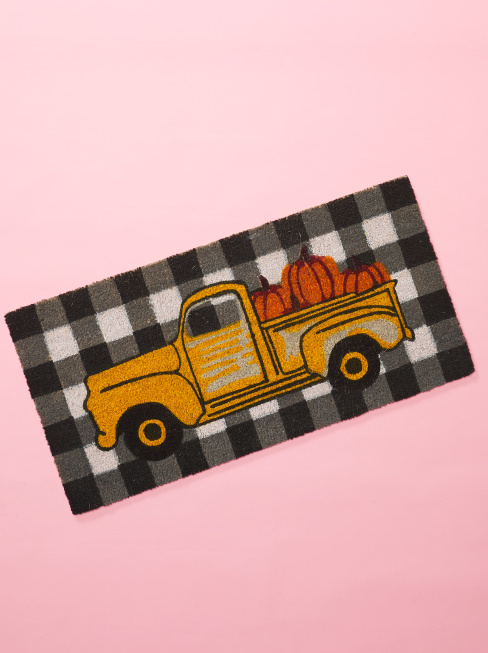 Cost: $16.99
Greet friends and family with a big cheery welcome this fall. The pumpkin farm truck-themed buffalo checkered doormat includes an anti-skid back to prevent slipping and sliding. Make sure to shake and sweep out regularly to keep unwanted guests such as dirt and critters out.
Haymarket Square Wood 3-Stacked Pumpkins Decor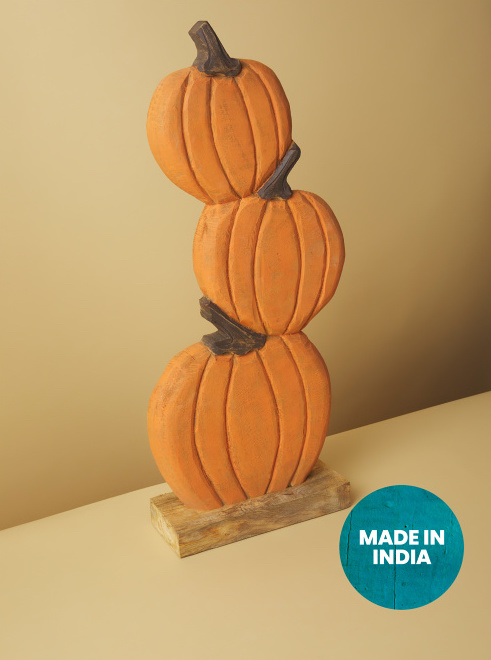 Cost: $24.99
Give your entryway or bookshelf a cozy fall lift with this cute stack of pumpkins. Its tall frame adds depth to shelves and fills open space on tables and countertops. Non-slip material is located on the bottom, protecting furniture from accidental scratching.
Martha Stewart Turkey Figurine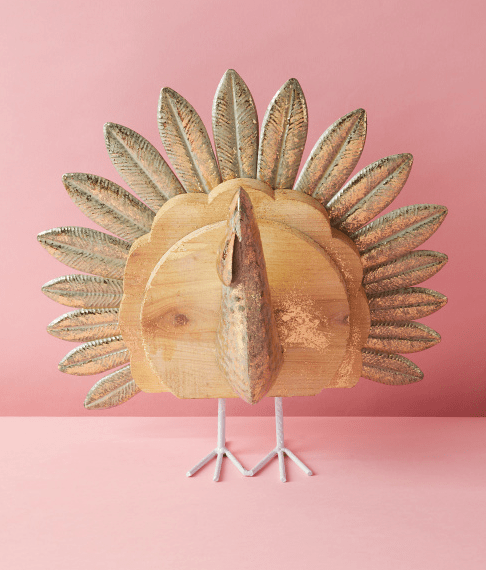 Cost: $24.99
Made from rustic wood with metallic accents, Martha Stewart's Thanksgiving turkey figurine makes for a great table centerpiece. With a truly original design, it fits nicely into any fall aesthetic — whether or not your decor is of traditional fall colors.
Zuhaus 2-Pack Glazed Pumpkin Table Lamps
Cost: $59.99
Available in sage or white, these glazed pumpkin table lamps will literally light up your living space this autumn! If you prefer subtle fall decor, this table lamp set gets the job done without drawing too much attention. It's chic, not kitschy.
Rae Dunn 14oz Sweater Weather Candle In Ceramic Jar
Cost: $19.99
Now, if kitschy decor is kind of your thing, then you'll definitely want to add a few Rae Dunn sweater weather candles to your cart. Burn these bad boys throughout fall and reuse the ceramic holders as flower vases or cookie jars come winter.
Isaac Mizrahi Dangle Legs Fox Pillow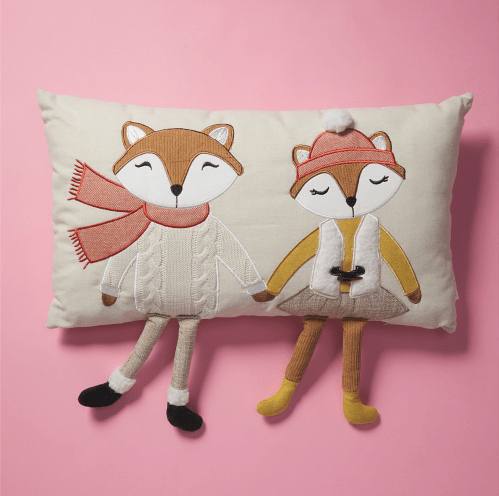 Cost: $24.99
Ease into holiday decor with fun seating accessories like this horizontal pillow of two foxes waltzing arm in arm. The throw pillow measures 14×24. Prop it on the couch, reading chair, or an entryway bench.
Home For The Holidays 30 Artificial Berry Wreath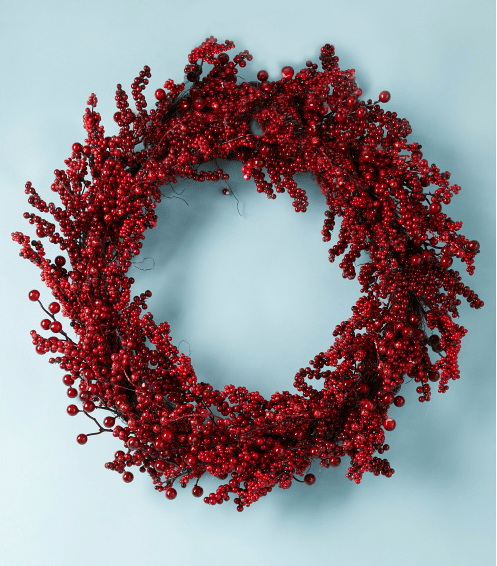 Cost: $39.99
You can easily hang this decorative berry wreath through Valentine's Day — on your front door or above your fireplace, and you never have to worry about it drying out because it's artificial. So, you're welcome.
Sigrid Olsen Jacquard Pumpkin Patterned Tablecloth
Cost: $16.99
Smother your dining or kitchen table in autumn grandeur with a jacquard pumpkin patterned tablecloth. It measures 60×102 and falls under the blue and silver Christmas aesthetic, if you want to stretch it.
Brass Oval Decorative Tray
Cost: $24.99
This bronze oval decorative tray is chic yet vintage, and can be left out year round. You can use it as a decorative piece or as a catch-all in the entryway or bedroom.
Mela Artisans Shabby Candle Holder
Cost: $9.99
Whether you light candles or not, candle holders like this one make for amazing decor pieces. They can be styled in literally any room of the house, including the bedroom. It's super inexpensive to change out an existing candle for one that matches the season's colors, too. Also, it's a fast way to add height to any coffee table centerpiece.
50×60 Tufted Stripe Tassel Edge Throw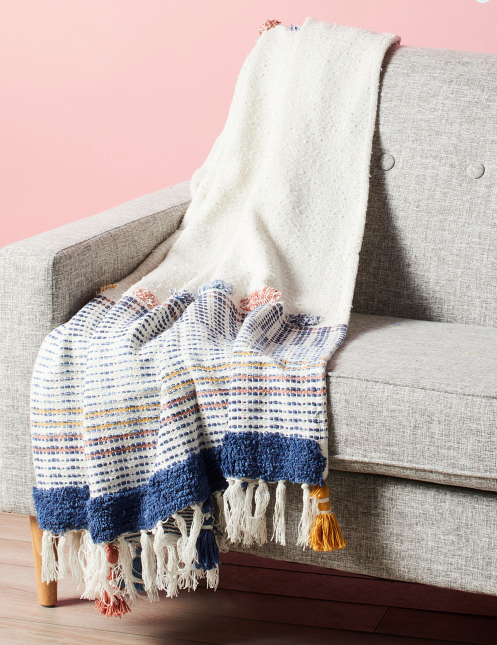 Cost: $24.99
There's no such thing as too many couch blankets (the perfect accessory for Netflix N' Chill nights by the fireplace). The texture and organic hues in this handmade throw make the transition from season to season that much brighter and cozier.
Food Dome Cake Stand With Beads And Lid
Cost: $39.99
You don't have to be a baking whizz to have a decorative cake stand on display. In fact, this pedestal stand might just become your accomplice in pulling off the ultimate party heist! No one will be able to tell those are pre-made desserts. Would a person who is pro store-bought cake own a cake stand of this elegance? Yes, the answer is yes.
Emily is a NYC-based freelance entertainment and lifestyle writer — though, she'll never pass up the opportunity to talk about women's health and sports (she thrives during the Olympics).
Read more