11 Ways to Deck the Halls and Get In the Holiday Spirit like a Hollywood Celeb
JLo, Reese Witherspoon, and even Nick Cannon share their most festive tips for holiday fun.
Don't just deck the halls this year — do it with celebrity flair! From cherished holiday recipes, to serving up your best Christmas "look" yet, and even some DIY menorahs for Hanukkah, we're inspired by what Hollywood has shared with the world as 2022 comes to a close.
RELATED: 5 Signs You Can Officially Start Celebrating the Holidays Now
It's not too late to get festive and shine bright like the film, TV, and music stars we love and adore. Here are some ways you can keep spirits bright (even if some of them are better at Christmas caroling than us).
1. Lean into your holiday brand like Mariah Carey
The Queen of the modern day Christmas song has really gone all out this year to make folks feel festive, making cheeky references to her seasonal hit, 'All I Want for Christmas is You' since Halloween passed the baton. She just wrapped her holiday special, Mariah Carey: Merry Christmas to All!, a spectacular seasonal review shot in front of a live audience at Madison Square Garden, which is set to air on CBS on December 20, and will be available for streaming on Paramount+.
2. Dress up, show up (and don't throw up) like Chrissy Teigen
Teigan and hubby John Legend always look glam, but the pair really pulled out the stops for a twinkly night out ahead of a date night to see The Nutcracker. The classy couple are expecting their third child, and Teigen held back no details. "Someone (not me) threw up in the car so we came home," she posted on Instagram, a caption to accompany a winter wonderland in the Legend home.
3. Deck every room in your house like Lizzo
Lizzo loves a good Christmas tree — so much so that she fills nearly every room with one during the holidays. She gave TikTok fans a behind-the-scenes tour of her holiday decor, making us all green with envy. Kourtney Kardashian is also known to put up multiple trees.
Don't have a mansion to fill with spruce and fir? We have some excellent budget-friendly decorating tips for you.
4. Strike a holiday card pose like Kylie Jenner
It's not too late to break out the camera and take a few snaps for your holiday cards, especially since it's so easy to get some quickly printed online or send them out virtually. Jenner had a cheeky photoshoot with supermodel bestie Anastasia Karanikolaou before the pair headed out for a holiday party with friends, where everyone was dressed to impress.
5. Slay your Christmas shopping like Nick Cannon
The father of almost a dozen little ones, Cannon is not shy about poking fun at himself. "Based on the baby mama to kid ratio, we have a whole helluva lotta gifts to buy," he states, in a silly video he created with some serious holiday gift giving advice.
Who knows? His heavy load could come in handy for those who have a lot of names on their nice list, too!
6. Make comfort food like Mindy Kaling's "classy" chicken pot pie
If you're hosting a holiday dinner party, and don't want to worry about burning your house down from bad roasting technique, take a cue from Kaling, who shared a video with her "classy" chicken pot pie recipe. "It's classy because it involves phyllo dough," she explains, (even if she's not sure how to pronounce it herself).
The result will look stunning before you present your killer dessert bar finale.
7. Pop some bottles like Reese Witherspoon
You'll need something to drink along with your main meal, so why not try Witherspoon's signature holiday cocktail? Sure, it's basically just some bubbly with a bit of "flair" but everyone knows the holidays are the best excuse to imbibe champagne more than other times of the year.
8. Craft your own Menorah like Busy Phillips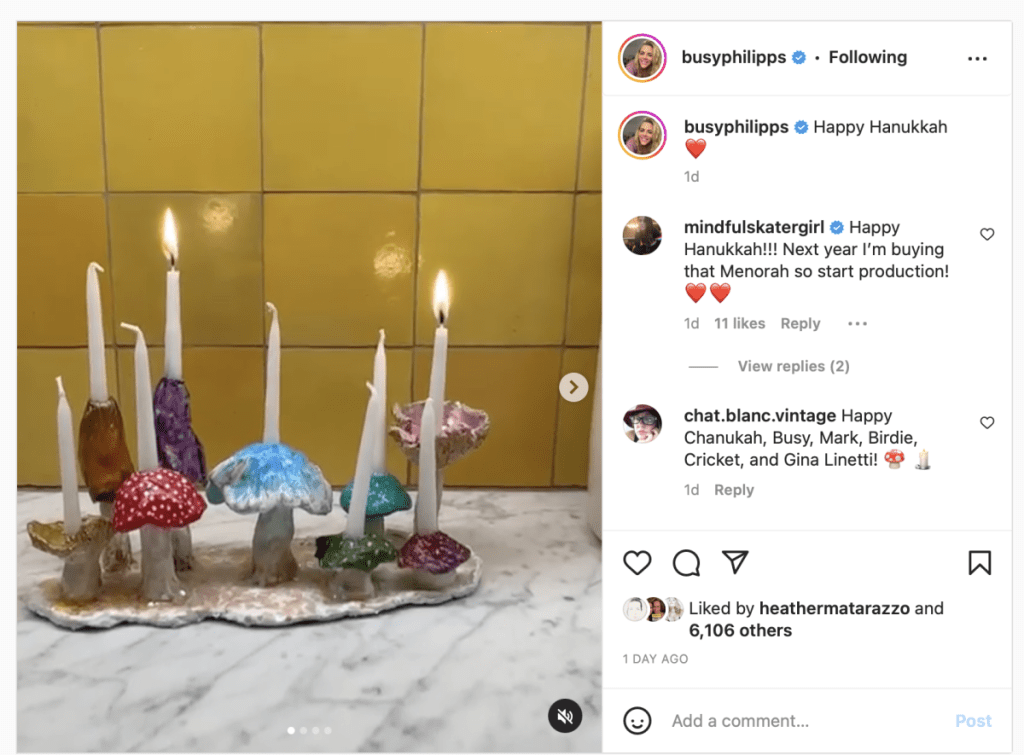 Philipps proved that not just dreidels are made out of clay — she created her own charming menorah to celebrate Hanukkah and show that new traditions can come from the old. You can create yours while watching one of these Hanukkah hits.
9. Sing Christmas carols like Jennifer Lopez and Ben Affleck
Don't be surprised if a few celebrity crooners show up singing outside your door this year. Page Six reported that Newlyweds Lopez and Affleck were captured singing "By Christmas Eve," "It's The Most Wonderful Time of the Year" and even "Jingle Bells" at a holiday party recently.
Ok sure, one has a Grammy and the other looks good beside her, but it's clear JLo and Affleck are the sweetest of #CouplesGoals.
10. Take some much needed R' n R like Gisele Bündchen
Bündchen is wasting no time finding some fun in the sun post-divorce from NFL player Tom Brady. She's been jetting around to some especially hot places (with some equally hot people) and this holiday season is no different; she's living it up with friends, family, and loved ones in her home country of Brazil.
​​
11. Drop a hint at your New Year's resolution like Miley Cyrus
Finally, Cyrus is giving us the best gift we could possibly get this year — a cryptic announcement of what may be her new album. She posted a video on Instagram of a billboard that read, "New Year, New Miley," and fans are already excited over the prospect of some new tunes in the new year.
Kat is a born and raised New Yorker exploring the world as she writes, eats, and everything in between.
Read more