We are speechless over this decadent AF $99 sundae
If you're looking for the most decadent dessert in the history of desserts, we've found it and it's totally going to blow your mind! Located at Serendipity 3 in Las Vegas, this unique treat will please your sweet tooth for sure. However, with a steep $99 price tag, your wallet may not love it. So what is this obscure, expensive indulgence and how can you get your hands on it?
According to FYI's Food Porn, the concoction, available now, is of the sundae variety.
As you can see in the picture below, the main component of the dessert is a chocolate-made treasure chest! Can we say ahoy, matey?!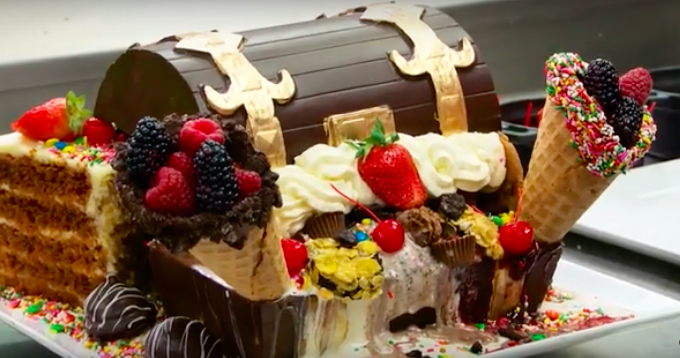 If all that doesn't pique your interest, some of the decorations include edible gold paint, rainbow-colored sprinkles, rich whipped cream, and Oreo kisses! Oh my! There's literally nothing missing from this and we're seriously salivating.
Equipped with ice cream cones, candy, and three slabs of thick cake, this not-so-little treasure box is fit for a king (or queen). If you're wondering what's inside the box, you'll have to check out this video to find out!
https://www.youtube.com/watch?v=AvK0NgKRGf8?feature=oembed
I don't know about you, but I feel the cavities forming just from watching this (IRL cavities would totally be worth it though.) While Serendipity gained its fame for serving the now famous frozen hot chocolate, the restaurant also has one more sundae to break the bank. Costing $1,000, another extravagant menu item comes with souvenir Baccarat crystal glass — because why wouldn't it?!
Dessert of the century award goes to Serendipity! Bravo!