Disney star Debby Ryan secretly got married and wore a classic princess dress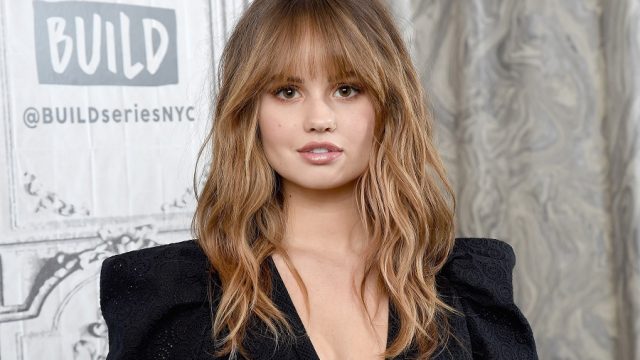 The rumors are true: Debby Ryan of Disney fame and Joshua Dun of Twenty One Pilots got hitched earlier this year. Ryan and Dun got engaged in late 2018, and after a year-long engagement, they decided to plan a whirlwind wedding in just 28 days. Fittingly for the Suite Life on Deck star, Ryan looked like a true Disney princess on the big day.
Ryan told Vogue that she and Dun tossed around the idea of having a destination party to celebrate New Year's 2020 but "then decided in December to get married [in Austin] on New Year's Eve, and just keep dancing until after the ball dropped." However, the newlyweds and their close friends kept the wedding a secret, leaving fans to speculate the two had wed after spotting Dun's wedding ring in the April music video for "Level of Concern."
The wedding itself was themed like "game night at our place had [turned into] a Gatsby-level dance party," Ryan said, having used keywords "art deco treehouse" and "goth flowers" to draw up a mood board. And she knew well before the wedding was even official that she needed this Elie Saab dress.
"The day the collection dropped on Vogue—I saved it," Ryan said about her classic princess wedding dress.
"For a long time, it was the only image of a wedding dress I had saved anywhere," the Insatiable star added, "and the only image in a folder titled 'wedding' on my phone."
https://www.instagram.com/p/CAdESkNn5TE
The wedding came together quickly after one of Ryan's close friends passed away in 2019.
"When he passed, it really rocked me and put a lot of things in perspective," she explained to Vogue. "It didn't feel important to wait anymore, to stop being busy, or for things to line up perfectly—intending to do things is not nearly as powerful as doing, as we aren't promised tomorrow."
So, the party was on. The couple's dog, Jim, delivered the rings to the altar, drinks were served, and the party commenced. Ryan changed into a reception dress and paired the look with her mother's veil.
"I asked my mom to bring her veil so that I could reference it and surprised her by putting it on for the reception," she said. "I had bought this Are You Am I silk slip dress for the honeymoon and popped into that, paired with the family pearls and our white Cortezes."
https://twitter.com/udfredirect/status/1263484230090309632
But after "underestimating how much dancing was going to happen," Ryan changed once more in a"festive" DKNY number. "I loved how bright it is in the hard flash, the reflective silver appearing whiter-than-white in the lights of the dance floor."
Congratulations to the happy couple who, yes, fans, are totally hitched.