Death threats against journalists have been normalized, and reactions to the Capital Gazette shooting prove it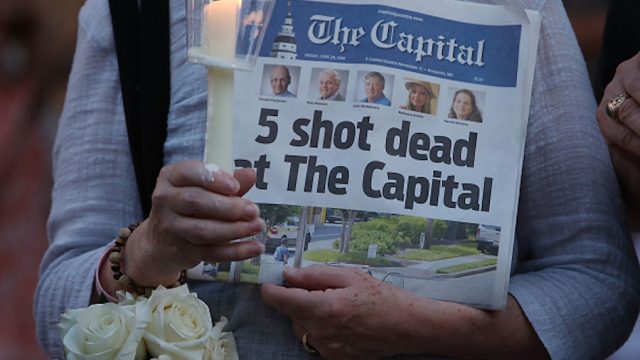 In a targeted attack on June 28th, Jarrod W. Ramos used a shotgun to force his way into the Capital Gazette newsroom in Annapolis, Maryland, where he shot and killed five innocent people: Robert Hiaasen, an assistant editor and Sunday columnist at the Capital Gazette since 2010, Gerald Fischman, an editorial page editor who had been at the paper for over 25 years, John McNamara, a journalist and sports writer who covered various topics at the paper for more than two decades, Rebecca Smith, a new sales assistant who joined the staff last year, and Wendi Winters, an editor and community reporter who wrote several columns for the paper every week.
Prior to his attack, Ramos had made "general threats" against the Capital Gazette after the paper ran a 2011 column detailing a harassment case that involved him. In 2009 and 2010, after reconnecting with a woman (his former high school classmate), Ramos sent her several malicious emails — including one in which he told the woman she should "go hang yourself." Ramos also called and emailed the bank where the woman worked, urging them to fire her. His actions led to her suspension.
Ramos plead guilty to harassment in 2011. A few days later, the Capital Gazette published a piece about the case, and the article apparently enraged Ramos. In retaliation, Ramos filed a defamation lawsuit against the owners of the paper, and later followed up with an invasion of privacy complaint. Both cases were dismissed by a judge, as were Ramos's subsequent appeals.
In an interview with NBC's Today on July 2nd, the woman he'd tormented for years said, "I was afraid he could show up at any point, any place…and kill me…As soon as they said it happened at the Capital newspaper and they couldn't identify their suspect, I picked up the phone and said, 'I know who your suspect is.' I knew if he was to do anything on a mass shooting level, it was going to target the Capital." false
In addition to his troubling history of harassing women, Ramos was also guilty of frequently attacking Capital Gazette journalists online. In one of his many volatile tweets, he expressed a desire to see the paper cease publication, but that "it would be nicer" to see two of its staffers "cease breathing." In 2013, he directly addressed editor Rob Hiaasen, one of the five people he murdered during his targeted shooting in the newsroom. On June 28th, shortly before the shooting, he tweeted profanities from an account that appears based on the name of the judge who handled his defamation case.
Ramos killed employees of the Capital Gazette just two days after conservative provocateur Milo Yiannopoulos told reporters he "can't wait for the vigilante squads to start gunning journalists." Following the attack, police in both New York and Los Angeles increased patrols at news outlets including the New York Times and the Los Angeles Times. In a statement to CNN, Deputy Commissioner for Counterterrorism and Intelligence John Miller said, "The NYPD has deployed counterterrorism teams to media organizations in and around New York City."
It isn't shocking to learn that, like so many other mass shooters, Ramos has a history of violence against women. It's also not shocking to learn that — like so many conservatives, including the current President of the United States — Ramos used violent rhetoric when talking about the press and reporters.
Yiannopoulos has insisted that he "wasn't being serious" when he advocated for shooting the media, but his statement is just one of many recent comments from prominent conservative figures that encourage violence against reporters.
Considering all that's known about the shooter's years-long history with the Capital Gazette, investigators cannot call these murders responses to Yiannopoulos's comments — but statements like Yiannopoulos's, in conjunction with Donald Trump's repeated claims that the media is the "enemy of the people," have normalized violent ideology, putting reporters' lives and safety at risk.
According to CNN, "Threats against journalists have been on the rise in recent years. Press freedom groups have also reported an uptick in physical assaults on journalists, particularly at campaign events and other political venues."
Earlier this spring, reporter April Ryan revealed that she had received death threats after asking White House Press Secretary Sarah Huckabee Sanders whether Trump has considered resigning. This winter, for Columbia Journalism Review, veteran culture writer Anne Helen Petersen wrote about the constant threats targeting reporters, especially women reporters.
Following the news of the Annapolis shooting, Petersen took to Twitter to re-share her report and her personal experiences:
"I've had people email death threats, threaten to cut my dog's throat, tell me I'd pay for my fake news. My mom told me to stop tagging my neighborhood on Instagram, I told her she was over-reacting," Petersen wrote. "Whatever the motive of this shooter, people are going to say that journalists are overreacting. We're not. We've been under-reacting for years."
https://twitter.com/udfredirect/status/1012433961929195520
https://twitter.com/udfredirect/status/1012434225037918209
One of the people who think journalists are "overreacting" is Yiannopoulos.
In response to the shooting in Annapolis and claims that his comments have incited violence, Yiannopoulos took to Facebook to defend his comment about "vigilante death squads," claiming he was just trolling with a "private joke." He went on to make several controversial speculations about the shooter, saying, "Let's hope it's another transgender shooter, too, so the casualties are minimal."
In response to reporter Amy Russo, who emailed Yiannopoulous to ask about his "encouragement of violence against reporters," he said the media "deserve what's coming."
A screenshot Russo posted on Twitter showed Yiannopolous's comments, which included the chilling statement, "If journalists keep lying, deceiving and manipulating the public, then they will reap the same hatred they are sowing against Trump and his voters." Even in his explanation of his controversial comments, Yiannopolous continued to insinuate, even encourage, violence against reporters.
Yiannopoulos may be one of the most outspoken and outrageous voices against the press, but he is far from the only conservative voice to encourage this kind of violence. In 2017, former Trump adviser and ex-Breitbart News editor Steve Bannon called the press the "opposition party" and told the media to "keep its mouth shut." At a rally in South Carolina on June 25th, just three days before the shooting at the Capital Gazette, Trump attacked the press, once again calling it "the enemy of the people." According to AP reporter Steve Peoples, his criticism of the "fake-newsers" in the back of the room was met with "angry shouts from the crowd." Another source of loud and constant criticism of the media that calls legitimate reporting "fake news?" Conservative darling and the president's favorite TV station: Fox News.
In the wake of the shooting, while other news outlets were scrambling for information on the victims and the suspected shooter's motive, Fox News checked the ideology of the Capital Gazette and reported that it was "very much a local paper." According to anchor Trace Gallagher, Fox News wanted to know the paper's political slant in case it "plays into the motive of it all." Neil Cavuto, a Fox News commentator, also speculated on air about the Capital Gazette's ideological bent, but concluded that he didn't "notice any rabid editorials." Observers rightfully took serious issue with Fox News' decision to focus on this aspect of the paper, pointing out how inappropriate it is to imply that said ideology would be relevant to the motive.
false
In another part of the internet, however, people had a completely different reaction to the murder of five newspaper employees. Following the tragic shooting in Annapolis, trolls on the far-right "celebrated" the violence inflicted upon the innocent people inside the newspaper office.
Washington Post reporter Drew Harwell posted a series of screenshots on Twitter that showed, as he puts it, an "active celebration in the worst parts of the Internet over the shooting in Annapolis." Among the horrifying comments were things like "dead journalists can't spread leftist propaganda" and, as Ben Collins from NBC pointed out in another screenshot from the r/The_donald thread, "Here we go! Right on time." false
Some of the most chilling posts actually link back to Donald Trump's tweet from February 2017 calling the media "the enemy of the American People." false
That February tweet was not the only time Trump has referred to the free press as "the enemy," and the president is far from the only person to wage an open war on journalists across the country. As CNN's Brian Stelter put it, "This is a day many journalists have feared for a long time."
Following the violence on June 28th, several members of the press asked Trump for a statement on the deaths of journalists in Annapolis, but Trump did not immediately respond. He later took to Twitter to thank first responders and say his "thoughts and prayers are with the victims and their families."
But as Capital Gazette staff writer and shooting survivor Selene San Felice told Anderson Cooper on CNN, she (and many others around the country) "couldn't give a fuck about [Trump's thoughts and prayers] if there's nothing else" that will be done. And so much more needs to be done  — starting with changes in how the press is treated and discussed by the most powerful man in the country.