This is what's really going on with the so-called "death of retail"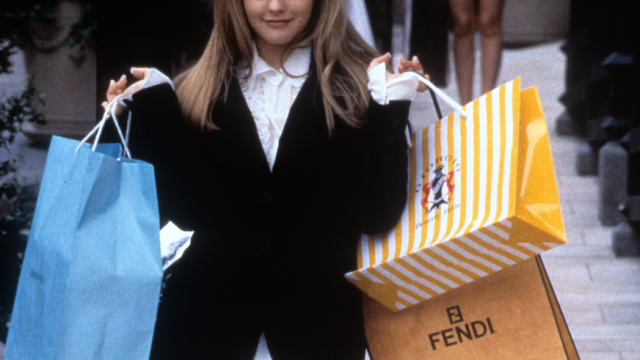 Step into any middle-class American mall today and the experience will likely feel unfamiliar. Gone are many of the chain clothing stores you frequented as a teen, and even anchor department stores, such as JCPenney and Macy's, are slowly disappearing from malls and city blocks around the country.
Indeed, more than 3,500 traditional brick-and-mortar retail stores are expected to close this year alone, with brands like The Limited, Sports Authority, American Apparel, and Wet Seal shuttering all locations, and others, such as American Eagle and Payless Shoes, downsizing their retail footprints significantly. All these closures are having a big impact on workers too, of course: In May, the retail sector lost 6,000 jobs, and that's on top of regular losses in months prior.
So what gives? Why are all these stores shutting down in what feels like a tidal wave, and does brick-and-mortar retail have a future in this country?
To answer those questions, we need to back up a bit. While hedge fund managers, whose livelihoods depend on rising stock and securities prices, panic over the closure of major malls and department stores, retail analyst Sucharita Mulpuru points out that booms and busts have been happening in retail for decades.
"Retail is cyclical," she says. "Typically, retailers have grown by opening new stores. Once they have saturated all the markets they can have stores in, they usually peak and then start to close stores. Some will go bankrupt or get folded into others. That's not uncommon…Remember Montgomery Ward?"
Over the past few decades, retail has been a booming business across the United States. At present, the U.S. has an estimated 23.5 square feet of retail space per person, compared to 16.4 square feet in Canada, the country with the next largest per-person retail footprint.
However, financial firm Credit Suisse predicts that, in the next five years, 20 to 25 percent of all U.S. malls will close, as anchor stores shutter and middle-of-the-mall retailers struggle to stay afloat.
Ask any retail investor what's going on and you'll hear the same story: The rise of online shopping — and Amazon in particular — is killing the American mall. But there are actually an array of issues at play in what's been called (perhaps dramatically so) the "death of retail."
First, according to Edward Hertzman, a retail expert and publisher of the retail trade title Sourcing Journal, today's shoppers — particularly Millennials — have new spending priorities, and they're foregoing the mall retailers of their teen years in favor of brands that keep up with current trends and produce product quickly.
"New generations of shoppers would rather spend their disposable income on experiences, like travel and exercise [and] food and wellness, and opt for fast-fashion retailers like Zara and H&M when it comes to buying clothes, he explains.
Retail analyst Mulpuru concurs. "Fast fashion is hurting traditional retailers," she says. "Asian manufacturing, which really only started to gain steam in the '80s…brought down prices, which meant that stores had to sell more units to drive revenue."
She's right, of course: Just think of the volume of goods available and the astonishingly low price points at a store like Forever 21, which manufactures most of its products overseas. You can find a full-price T-shirt there for under $13, versus at a pre-fast fashion retailer, like American Eagle, where a similar tee is priced at $24.95.
Plus, Mulpuru adds, "There have just been so many retailers, more than we really need, and that's made it harder for any individual store to thrive."
There's something else troubling traditional mall retailers, though, explains Heather Brown, the senior director of women's design at California-based clothing retailer PacSun, which has been in business since 1980. Consumers today want products immediately, and aren't interested in waiting on fashion's old-school "seasonal" model for the clothes and accessories they see on social media to hit stores. And they want what they see on social media.
"Everyone wants instant gratification," Brown says. "Whether it's a consumer seeing a brand/celebrity/someone wearing something on Instagram and wanting it — or something like it — immediately, or shopping online for something they need tomorrow and needing overnight shipping, today's consumer has shifted to buying later and needing things faster."
PacSun, she says, has had to adapt to that change, paying close attention to social media and the trends that are driving interest among young people online.
"Every season we set the tone for our brands and the store, but as we get closer in, we are constantly changing and adapting based on what's happening in the now," Brown says.
The strategy seems to be working. In 2016, PacSun emerged from bankruptcy relatively unscathed after a shaky year marked by some store closures and a retreat from a planned expansion. After thriving in malls across the nation throughout the '90s and early aughts, the business struggled to keep up with the demands of an older customer base (Brown says the brand's traditionally teen audience has aged up), reporting declines in sales.
Now, the brand has a new CEO and 1.8 million followers on Instagram (compared, for example, to similar retailer Wet Seal's 375,000). It's tough to tell how the company is doing financially, though, since PacSun is no longer publicly traded post-bankruptcy and thus isn't releasing sales figures.
"It's challenging to continuously adapt and shift, but it's the only way to be successful," says Brown. "I believe e-commerce is the future, and putting time and energy to building that is incredibly important…[but] brick-and-mortar stores are still very important for relevant brands — to touch, feel, try on product — and [having] that special in-store experience is something I think everyone should still have, but the competition is high to keep customers coming through the door."
The interplay between social media, online shopping, and brick-and-mortar store closures is more complex than simply saying, "Millennials do everything on their phones; that's why the American mall is dead." While there's been much ado about the "Amazon-ification" of shopping, research and anecdotal evidence show that young people are simply using technology to shop smarter, and some retailers just aren't keeping up.
The fact is, about half of all purchases are still being made in physical stores — and 67% of Gen Z teens prefer to shop in stores — but today's consumers are using the web to get inspired, see what's trending among the influencers they trust, and shop around until they find the best price. Just think of Kylie Jenner — Millennials and teens flock to her pop-up shops in droves, even though her products are also available online.
The point, Mulpuru notes, is not so much that online shopping is killing retail, it's that social media and online influencers are defining what's cool now — not retailers — and if brands can't keep up, they're becoming obsolete. 
"Merchants aren't the tastemakers any more," she explains. "Bloggers, vloggers, Instagram personalities — I call them 'microcelebrities' — all collectively have lots of influence. Any individual person may not influence much, but when you add it all up, it's powerful." 
"That said," she adds, "things rise and fall faster in the age of the internet. You can become an overnight sensation and sell 5,000 units of something in a week, but then that's all you'll ever do."
There are some brands, though, that have so successfully capitalized on the new retail economy that they've actually transitioned from e-commerce only to having brick-and-mortar stores.
Fabletics, the activewear brand, is one such example. It was co-founded by actress Kate Hudson in 2013 as an online-only, subscription-based service, and Hudson remains a very active face of the line. She frequently posts photos of herself in Fabletics attire on her Instagram page, which has 7.6 million followers, and appears regularly in the brand's ad campaigns. She's an "influencer," to be sure, and a powerful one.
Just two years after launching online, Fabletics opened its first six brick-and-mortar stores — at a time when traditional retailers were beginning to fade. And now? Fabletics boasts 22 physical retail stores — and counting.
The company's online business has been criticized: Customers have said, for example, that the "VIP Membership" model — i.e. the subscription program that automatically charges you $49.95 every month unless you tell Fabletics you want to "skip" that month within the first five days — is confusing, and leads to unwanted charges. And, as BuzzFeed reported in 2015, in about a three-year span between 2012 and 2015, the Better Business Bureau received more than 1,400 complaints about JustFab, Fabletics' original parent company, though the company says less than one third of those were related to Fabletics specifically.
But Forbes reported last year that the BBB is receiving fewer complaints about Fabletics — about five to 10 per month — which Fabletics' co-founder and co-CEO Adam Goldenberg said was still "too many," but added, "in a typical month we're sending out 800,000 items…[so] largely speaking, customers really like this program."
Goldenberg told Forbes that around 40 percent of Fabletics' in-store purchases have been made by e-commerce customers who want to see, touch, and try things on in person. Plus, Shawn Gold, corporate marketing officer at Fabletics' current parent company, TechStyle, told HelloGiggles that Fabletics' brick-and-mortar stores have provided a "positive lift" for the company all around, with global business growth increasing by 46 percent year-over-year in 2016 and Fabletics' membership base growing to 1.2 million (that said, the company hasn't previously shared membership stats so it's tough to know how much growth that represents).
Clearly, something's working for Fabletics — whether it's the Kate Hudson Effect, or the brand's online-to-in-store model. But one thing's for sure, shopping in a Fabletics store is different than shopping somewhere like Athleta, which is owned by Gap and doesn't have its roots in e-commerce. Fabletics' e-commerce DNA is evident throughout the in-store shopping experience.
"We see the retail channel as a way to elevate satisfaction and take away the friction of the traditional retail experience," Gold explains. "For example, if a customer tries something on in-store but doesn't want to pull the trigger, the item will be held in their online shopping cart with notes on how they felt about the item so they can revisit the purchase when it's convenient for them."
And, Gold says, Fabletics adjusts and adapts its inventory and designs based on sales data as well as customer feedback in-store and on social media.
"If the in-store conversion rate of a size small 'Solar' legging is much lower than every other size, we know there is a problem and we can see that almost immediately by viewing data across stores," he says. "We can then pull the product immediately from our site until the issue is addressed so customers aren't disappointed when the product arrives and the fit isn't right."
Other brands that have transitioned from e-commerce to brick-and-mortar have similarly used customer insights and social media to make their stores more enticing.
Les Lunes, a boutique women's clothing brand based in the San Francisco Bay area, is one example. The Parisian-inspired brand was founded as an e-commerce retailer in 2012 by Anna Lecat and Melanie Viallon, and sells only Les Lunes-branded clothing made from super-soft bamboo fibers. After building a customer base online, Lecat says she and her team tested out the brick-and-mortar environment with pop-up shops — temporary, short-term retail locations where customers could come in, meet the brand's team, and touch and feel the clothes first-hand.
"The conversion rate was almost 100% at those events," she tells HelloGiggles.
From there, Les Lunes opened up its first brick-and-mortar, by-appointment only studio in San Francisco. ("Again, the conversion rate was 100%," Lecat says.) The company now operates four boutiques in California with plans to continue launching in other markets, always testing out customer response with pop-up shops first.
"Our standalone boutiques fit the lifestyle of the customer, Lecat explains. "The store is an extension of their lives. At Les Lunes' wine country boutique, the light, smells, and music create a relaxed feeling. At [the] Corte Madera [store], which is in an open-air mall, they love French things and requested French music, so we play it.
Today's customers, she says, want authenticity, a retail environment that matches their lifestyle, and the sense that a brand cares about their needs. Les Lunes, for example, designed and manufactured several pieces for men after customers requested them again and again. From customer request to product delivery, the whole process took about one and a half months.
"We listen to customers closely and respond to their needs," Lecat says. "Millennials want to talk about their travels, so we train the stylists in our boutiques to have that conversation — 'Here's what works in that environment.' … We want to understand the customer and be one with the customer."
TechStyle's Gold agrees, saying, "Fifteen years ago, loyalty in retail was about geography. Today it's about value, service, selection, user experience, exclusive design, and ease of returns."
So what exactly should you expect from retail in the future?
First of all, experts agree that all that empty mall space around the country will have to be converted somehow. Some former malls have already been converted into housing, others have become office buildings, hospitals, greenhouses, and even churches.
If malls want to remain malls, says Mulpuru, managers will have to get creative to bring customers back.
"I don't know that there is much that most indoor malls can do, unless they have a killer location and little competition," she says. "[But] restaurants are a big part of lots of neighborhood centers and power centers that are doing well. Many will have Friday night bands, and let customers walk around with wine and beer. Grocers keep customers coming to malls. But there's no easy fix."
One development company, WS Development, is trying to reinvent the culture of mall shopping by creating experiential, multi-faceted environments, rather than simply stuffing retailers together under one roof and hoping consumers show up.
At its Boston Seaport property, for instance, which is still under development, there will be a mix of restaurants, fitness studios — such as SoulCycle — local retailers and larger brands, as well as art, concerts, and other community events that bring residents together.
"We want to make people smile," says Samantha David, chief operating officer of WS Development. "When people are happy, they'll buy things; that's an ancillary thing that happens."
She describes her company as "obsessed with local culture" — WS even hired two local graffiti artists to paint a mural at its Tampa, Florida property, which has drawn eagle-eyed Instagrammers who see the work as a perfect selfie backdrop — and they're committed to bringing in local merchants who know their clients and can provide "A+ customer service," as David describes it. Authenticity and social media savvy? Check, check.
While retail expert Hertzman acknowledges that he doesn't "have a crystal ball for the future," he points out that whatever happens to retail, it will continue in some form — it's just a matter of finding what works.
"What I do know is the world won't give up on clothes," he says. "They could just give up on the traditional methods of buying them."