The "Dear White People" trailer is here, and OMG this show is so necessary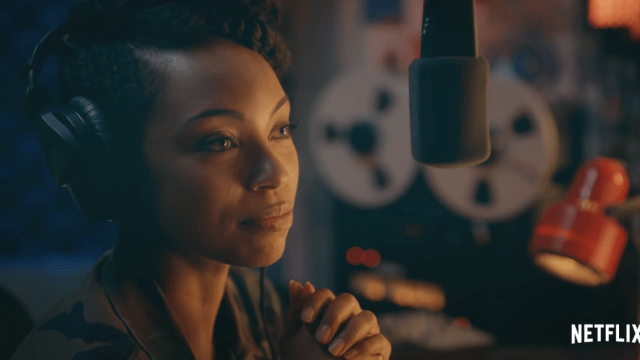 The official full-length trailer for Netflix's upcoming series adaption of Justin Simien's 2014 film Dear White People is finally here, and it's exactly what we needed. After watching the two-minute trailer, we feel safe enough to say that much like the movie, the series will tackle complex issues surrounding race — in a hilarious way.
The series will follow a group of black students navigating campus life at a predominately white Ivy League university as racial tensions spike. We are introduced to protagonist Samantha White, played by Logan Browning, who is the host of a controversial radio show aimed at calling out racism on campus. She also uses her platform to discuss issues like cultural appropriation, interracial dating, and why "blackface" is NEVER an acceptable Halloween costume. Seriously, just don't do it.
https://www.youtube.com/watch?v=oYKgHvPVACE?feature=oembed
Earlier this year, Netflix faced quite a bit of backlash after dropping the show's first teaser. The internet was flooded with comments from white activists accusing the series of promoting "white genocide." Now, the new trailer opens with a trigger warning — "The following program is intended for both white and black audiences, and every other color imaginable" — which might be poking a little harmless fun at the offended parties.
But on a more serious note, the show's creator had this to say,
"Equality feels like oppression to the privileged and thus three benign words send them into a fight for their very existence, which happens to it actually not [being] in any real danger. This is how a minute-long date announcement becomes a distorted call for white genocide in the minds of some people. Despite all signs to the contrary."
We're definitely excited to see how the show will unfold. Gather your snacks and prepare to binge-watch all 10 episodes with us on April 28th.