Taylor Swift's cats make a cameo in Deadpool 2 — and we probably have Blake Lively to thank for this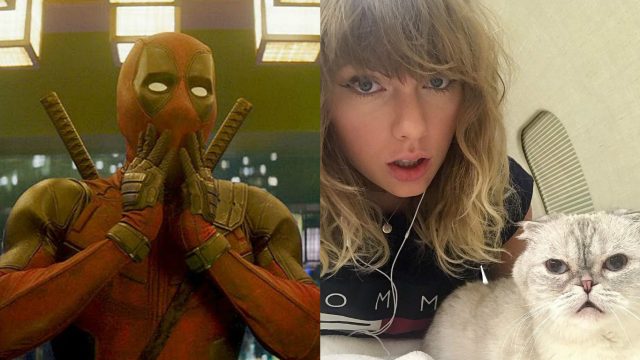 In Deadpool 2, the jokes and references come faster than you cay say, "whoa, Wade Wilson, slow down," but that's pretty much the point of the movie. The anti-hero who ends up being a hero is known for a reason as the "merc with a mouth" because he really doesn't stop talking, ever. And if he's not cracking a joke, he's insulting someone, or turning to the audience to poke fun at the Avengers. It's a lot to take in, so there's obviously a handful of things you're going to miss on your first (or even your second) viewing.
One thing you definitely missed because you weren't looking for it? A Taylor Swift joke. Yes, in between the bullets and the blood, Deadpool takes a second to shout out Tay herself — but it's a pretty obscure reference and really only obvious to the die-hard Swifties. See? Deadpool 2 really does have something for everyone.
From here on out there are tiny, mild spoilers — but you've gotta know how Taylor Swift makes her way into the Deadpool Cinematic Universe. After he manages to really F some stuff up, Deadpool finds himself at Charles Xavier's School for Gifted Youngsters, aka the home of the X-Men. Colossus, aka that big silver-y metal guy, has taken Wade there to nurse him back to health and put him in whatever clothes he can find. It's really nothing more than some sweatpants and a hoodie, but if you look closely at the T-shirt Wade is now wearing, there are two very familiar cats on it.
Because those are Taylor Swift's cats.
Yes, Olivia and Meredith make a cameo in Deadpool 2. The T-shirt in question actually says "Olivia and Meredith, Friends Furrrrever."
It's random, but it's actually not that random. In case you've forgotten (AS IF YOU COULD EVER FORGET), Ryan Reynolds — the man behind the Deadpool mask — is married to Blake Lively. Blake Lively happens to be good friends with Taylor Swift. So you just know at some point in time a funny T-shirt conversation came up, and someone in the Reynolds-Lively house was like, "Okay, but what about putting Olivia and Meredith in the movie?" 
No word yet on whether Taylor has seen Deadpool, or even realizes that Olivia and Meredith are now in the ~Deadpool Cinematic Universe~.
If you want to take this joke a step further, it could even be suggested that the shirt actually once belonged to Jean Grey, who is played by Sophie Turner in the current X-Men movies. Sophie Turner also happens to be friends with Taylor Swift, and it was once rumored that Swift was going to pop up in an X-Men movie with a cameo.
So basically, in short, one way or another, Tay was always going to show up at the X-Men mansion.