Deadpool crashed Stephen Colbert's monologue last night — and trash-talked Ryan Reynolds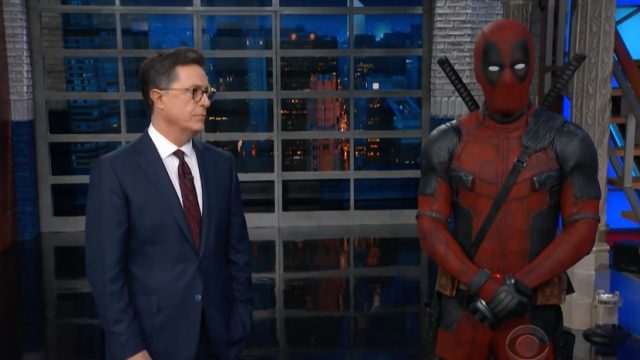 With the movie hitting theaters Friday, May 18th, the promotional efforts for Deadpool 2 are in full swing. However, it seems everybody's favorite anti-hero isn't welcome everywhere…in fact, Deadpool himself showed up to Stephen Colbert's Late Show monologue last night, and he didn't exactly receive the warmest welcome from the host.
Due to recent hits like Black Panther and Avengers: Infinity War, Colbert said he's feeling major superhero fatigue, asking his audience, "At what point will audiences say, 'Enough with the superheroes?'" And just like that, Deadpool graced the stage to thunderous applause (at which point he told viewers not to get up for a standing ovation, since he knows how old the CBS audience is. Burn).
Deadpool also offered Colbert one piece of advice, warning him never to book Ryan Reynolds because, "that guy's a total a-hole."
Along with a few other NSFW adjectives, he quipped that Reynolds is "like the poor man's version of Ryan Reynolds, and like the rich man's version of my recent turd." Yikes.
Then, Deadpool roasted all late-night hosts, Donald Trump, and, uh, Russian hotel rooms.
https://www.youtube.com/watch?v=nlozE2m-NMc?feature=oembed
Again. LOL. We think he did a great job, but we bet late night hosts, Jamie Foxx, Ryan Reynolds, Russian hotel rooms, and Donald Trump might disagree.
And again, Deadpool 2 opens in theaters Friday, May 18th, and you'll probably want to buy your tickets in advance if you want to see it opening weekend. We have a feeling it's gonna be big — much to Stephen Colbert's chagrin.