This dad made his kids a Deadpool pizza, and now we're hungry
Each product we feature has been independently selected and reviewed by our editorial team. If you make a purchase using the links included, we may earn commission.
By now, you've probably heard of Deadpool, that movie that everyone is seeing—twice!—about Deadpool (aka Wade Winston Wilson), the antihero from various Marvel comic books—but it's not appropriate for all ages, of course. So, GeekDad's Tom Fassbender  came up with a clever (and delicious) way to share the character with his kids: a Deadpool pizza. Best. Dad. Ever. (And excuse my stomach growling now as I wonder WHERE CAN I GET ONE?)
Fassbender used Rosanna ("Ro") Pansino's YouTube cooking show, Nerdy Nummies, as his guide. Luckily, one of his daughters was already a fan of Pansino's show and they'd even gone to her book-signing for the Nerdy Nummies Cookbook.
When Fassbender came up with making a Deadpool pizza instead of going to the movie, his daughters were all-in. They even made their own pizza dough, a family first. And in just 10-15 minutes, voilà! Deadpool pizza for everyone!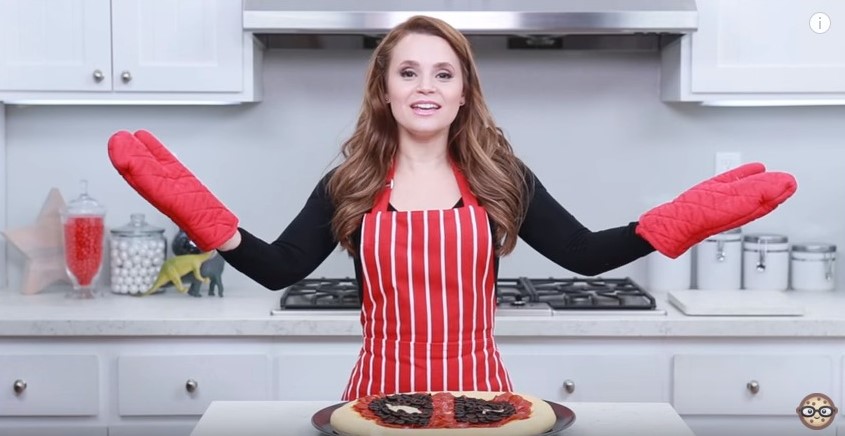 Over 800,000 (!) people have watched Pansino's YouTube Deadpool-pizza how-to, and you could be next! (There she is above, post-pizza-making!)
Below, step-by-step instructions re: how to make a Deadpool pizza yourself!
I wonder how many of those people actually made a pizza. That's a LOT of Deadpool pizzas out there (and I want some!)
Here's a rat carrying a slice of pizza. We kind of get it.
New study on pizza confirms our long-held theory