Celine Dion and Deadpool sensually dancing in this new music video is the gift we never knew we needed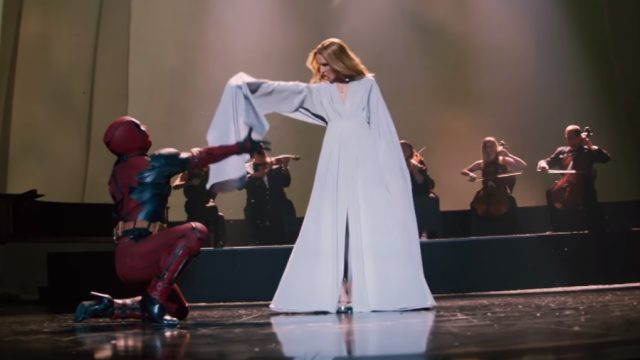 While Celine Dion may seem like an unlikely choice for the Deadpool 2 soundtrack, a new music video proves that she is a perfect addition to the franchise. On May 3rd, Dion revealed the music video to her new song "Ashes," and it features Deadpool in a way we've never seen him before — in heels.
Known best among millennials for singing the ballad that made Titanic even sadder than it already was (shoutout to "My Heart Will Go On"), Dion's "Ashes" is a powerful song that will probably make you sob. However, the "Ashes" music video will probably crack you up. Dion herself tweeted that you'll "be laughing your 'ashes' off". Oh, Celine. In addition to rocking heels, Deadpool also impresses with an interpretive dance — and trust us, he fully gets into it.
Whoever put these two together deserves a promotion, because this is the collab we never knew we needed.
https://www.youtube.com/watch?v=CX11yw6YL1w?feature=oembed
And while we love every minute of the above video, we might just love the ending the most.
"This is Deadpool 2,  not Titanic. You're at like, an 11, we need to get you down to a five, five-and-a-half tops. Just phone it in," he says. At which point Dion points to her vocal chords while firmly saying, "This thing only goes to 11." LOL.
Okay, we're officially going to need a behind-the-scenes/outtakes video of this, stat. But until then, we'll just be watching the above on repeat and sending it to everyone we know.
Check out Deadpool 2 in theaters on May 18th, 2018.