Deadpool spoofs "Justice League" *and* "Toy Story" in the first full-length trailer for the sequel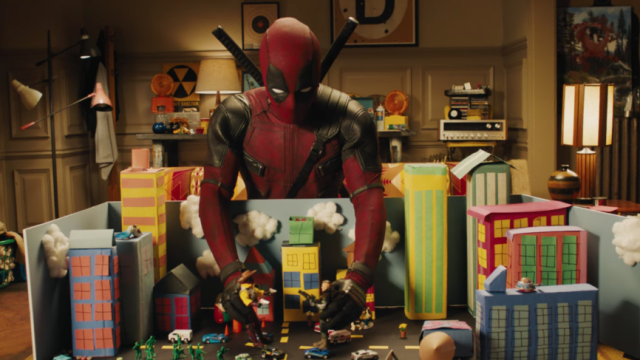 The wait is finally over, friends. We have our first full-length trailer for Deadpool 2. Ever since the Super Bowl, Deadpool social media accounts have been taking things up a notch, live-tweeting the Big Game and releasing delightful throwback posters. We knew that a trailer was imminent, and we're so ready to finally have a solid look at the sequel.
In the trailer, we get our first look at Josh Brolin's character, Cable, and we get to learn a bit about his backstory. We know he's from the future, and just like Deadpool, he's suffered a great deal of pain, which he channels into violence. Of course, this is Deadpool we're talking about, so the trailer doesn't just give us a glimpse at new characters like Cable and Zazzie Beetz's Domino (who we also get to see in action, and #bless).
The Deadpool 2 trailer also takes a couple of shots at some pretty popular franchises.
The first comes when Brolin's metal arm isn't CGI'd properly, and you can see the green sleeve he had to wear for the effect. Deadpool pauses the trailer to share his displeasure, noting that it's not hard to put through visual effects — unlike a mustache, which hearkens back to Henry Cavill's now-infamous photoshopped mustache from Justice League.
Then, he has a throwback reference: When Deadpool takes control over the trailer, he tries to tell the Deadpool 2 story with action figures: dressing his action figure up as Toy Story's Woody and even shouting one of Woody's signature catchphrases, "Reach for the sky!"
The Deadpool 2 trailer is the perfect mix of action, irreverence, and that fourth wall-breaking habit that we've come to expect from good ol' Wade Wilson.
https://www.youtube.com/watch?v=xZNBFcwd7zc?start=1&feature=oembed
We're excited to meet Domino and Cable on the big screen, but we're even more excited to reconnect with the old friends we made in the original, like Negasonic Teenage Warhead, Blind Al, Dopinder, and Vanessa. Luckily, we don't have to wait too much longer for Deadpool 2, since it lands in theaters on May 18th.