There's been a deadly Amtrak crash in Washington state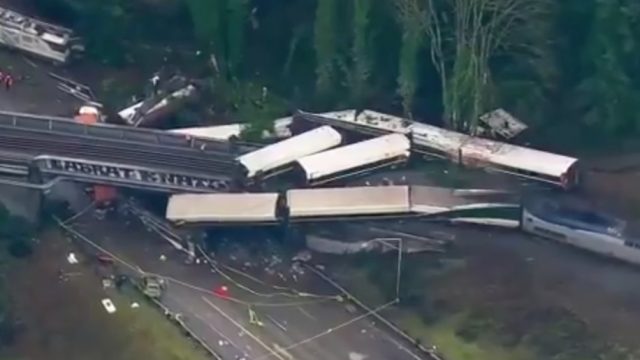 This morning, December 18th, an Amtrak train outside of Tacoma, Washington derailed, killing several passengers and injuring dozens of others. The train allegedly careened off a bridge and onto the highway below. It was the train's inaugural run on a new route.
The train was headed from Seattle to Portland, and authorities report that it was carrying 78 passengers and five crew members at the time of the crash. Chris Karnes, a train passenger, described the moment of derailment to ABC News.
"We were going down the tracks between 70 and 80 miles an hour I would say, and we heard a creaking, a little bit of a creaking sound." He then said the train began to wobble, "and then we were catapulted at the seats in front of us and the next thing that we knew, our car had crumpled at a portion at the top and we were down an embankment."
He explained that his train car finally came to rest on a hill, and that "water and a ton of dust flew up into the air. […] I don't know how to describe the noise. There was a crash — we knew that something had happened."
Witnesses told ABC News that a number of motorists leapt into action to help after witnessing the crash.
Details on the situation are still emerging, and the identities of the casualties have not yet been revealed. We'll be monitoring the situation as more information becomes available. We're sending our thoughts and condolences to everyone affected by this tragic accident.