Everything we know about the 'NSYNC and BSB zombie movie (yes, you read that right)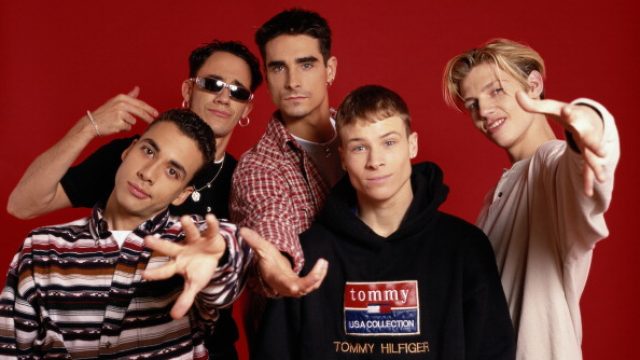 Many moons ago (okay, roughly 15 years), one question divided the nation (of teenage girls): Are you team 'NSYNC, or team Backstreet Boys? You could enjoy both, but the rules of teenage girl-dom in the late '90s and early 2000s forced you to choose only one favorite. But now, years later, the so-called rift is over and the two crème de la crème boy bands are putting their former competition aside and joining forces for a zombie movie. Yup, a zombie movie.
Dead 7 is a two-hour original Syfy movie that will debut early next month. Set in the post-apocalyptic wild west, it stars a group of gunslingers who attempt to defeat a zombie invasion. Those gunslingers? We may or may not have had posters of their faces hanging all over our walls as teenagers.
"Think about it," Nick Carter of BSB told BuzzFeed last year. "Boy-banders, people from the late '90s, people who you love, fighting zombies in a post-apocalyptic world. Pretty crazy, right?"  
Totally crazy, and we can't wait. Representing 'NSYNC are Joey Fatone and Chris Kirkpatrick, and from the Backstreet Boys we have Nick Carter (who created the story, co-produced, and is starring in the film), AJ McLean and Howie Dorough. But because life is funny and amazing and wonderful, Dead 7 also features other crushworthy boy-banders of the time: Jeff Timmons from 98 Degrees and Erik-Michael Estrada, Jacob Underwood, Trevor Penick and Dan Miller from O-Town.
It's not a total reunion, but it's still pretty darn close. And including 98 Degrees and O-Town is the icing on the cake. Check out the trailer for Dead 7 — the middle-schooler in you will squee with delight!
https://buzzfeed-video1.s3.amazonaws.com/video/2016/03/16/Syfy_Dead7_Trailer60_720p-624×350.mp4
The movie will air on Syfy Friday April 1, at 8 p.m. (P.S. That April 1 premiere does make us wonder about an elaborate April Fool's joke, but we'll have to wait and see.)