A museum exhibit centered on modern Muslim fashion helped redefine my idea of modesty
"Can I change in your car?" was my go-to line in high school. My friends were already accustomed to me carrying around a spare maxi skirt in case we spotted my conservative Muslim father and I had to do a quick change into my halal garb. I wasn't wearing anything scandalous to begin with—just skinny jeans, but the tight fit was "immodest" and "against the religion," according to him. So I carried around the spare skirt; a Toyota Corolla was my dressing room. I spent years trying to understand my father's definition of "modest," a crucial concept—or requirement in some families—for Muslim women. According to him, modest meant no tight-fitting clothes, even if they covered my entire body. It meant not showing my teeth when I smiled in photos, which he called an "aggressive smile." And it was not sheer sleeves on an opaque, floor-length dress. From what I could gather, my father interpreted modest as baggy, frumpy, hidden.
His notion of modest clothing stands in contrast to Halima Aden's piety, which is not wrapped up in a black abaya. Her bold, red African-printed top and burgundy headwrap does not take away from her modesty or her religion. Halima is a Somali-American Muslim model who graces the front wall of the de Young Museum for its latest exhibit: Contemporary Muslim Fashions.
Organized by the Fine Arts Museum of San Francisco, this is the first major exhibit to explore the intricacies of Muslim fashion worldwide. Jill D'Alessandro, the curator in charge of costume and textile arts, and Laura L. Camerlengo, the associate curator, researched bloggers and influencers on social media to select the 80 ensembles and 40 photographs showcased in the exhibit. They consulted with Reina Lewis, an Artscom Centenary Professor of Cultural Studies at the London College of Fashion, to accurately capture the life of a Muslim woman. Their findings resulted in a groundbreaking, collective space that displayed the true range and influence of Muslim women—a representation mainstream media repeatedly fails to acknowledge.
Halima is one of many powerful figures highlighted in this exhibit, paving the way for Muslim women to reclaim the right to define what it means to be "modest"—and what it means to be us.
For many years, I thought being a pious Muslim meant to keep my head down, to only speak when spoken to. I didn't know I could explore fashion, music, or writing and still be a modest Muslim woman. I didn't know how to be loud without attracting attention (the wrong kind) and somehow bringing shame to my entire family in Sri Lanka (most of whom would likely disapprove of such a contemporary exhibit). People from my Muslim village back home were the biggest critics of my creative endeavors, and I was always deemed immodest by their narrow Muslim standard. My parents' scrutiny is perhaps what limited me most from exploring my full potential. Their unending concern with what others might think ignores the reality of Islam's diversity—that this is a truly global religion, one captured so well by the de Young exhibit.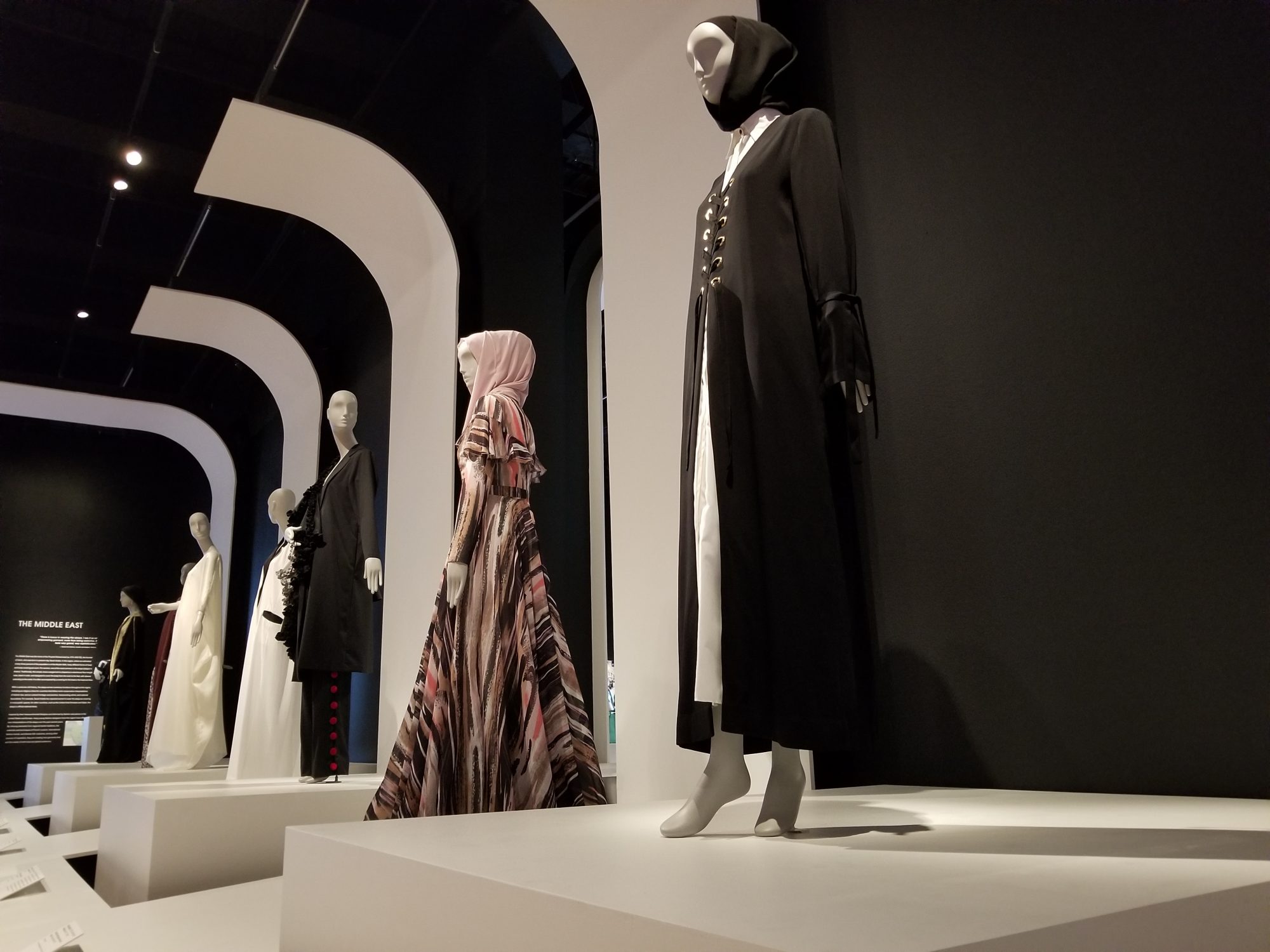 The "Muslim" category is a large pool filled with many ethnicities and methods of practicing—Trump may try, but you can't put 1.8 billion Muslims into a single box. And if you attend the exhibit (which runs at the de Young Museum in San Francisco through January 6th), you'll notice that each country blends their cultural roots into the religion to create a beautiful, unique representation of Islam. There were photos by Iranian street style blogger, Hoda Khatebi; African-printed cloths in Naima Muhammad's designs, and songkets featured in Dian Pelangi's work—displaying the entire range of how women demonstrate their faith across the world.
Each culture's political stance and history plays a role in how the religion is practiced. American-Muslims may don midi skirts with boots, while Muslim women in Tehran may wear tighter jeans and sneakers. Sri Lankan Muslims still wear shalwar kameezes. All of these styles are representations of "modest fashion," and despite what my father might say, one look is not more proper than the other.
Islam is interpreted and practiced differently based on where you are from and your culture—something both Muslims and non-Muslims should remember. This exhibit serves as a space for us to see these variations within Islam in one place where women are not ostracized for the way they practice their religion. This is not an exhibit for Muslim aunties to congregate and put down women that don't wear a hijab. This is not an exhibit for people to claim that Mona Haydar's rapping is scandalous or Zahra Lari's figure skating is too sexual for a Muslim woman. This is not a space for people to perpetuate the belief that Muslims are obscure, oppressive, disease-ridden terrorists.
Instead, Contemporary Muslim Fashions welcomes Muslims and non-Muslims to celebrate the potential of Muslim women—and their differences. The bold colors and prints show how startling and dynamic the religion can be. The designs present the interests of Muslim women beyond cooking for our families and staying at home to recite the Quran after Maghrib. Displays featuring Aheda Zanetti's burkinis and Sarah Elenany's "Hoody Dress" made for activities like climbing are a much-needed reminder that we can belong in all spaces. That we deserve access to all spaces. Ibtihaj Muhammad's photo placed behind a mannequin wearing a Nike Pro hijab does not just represent the first hijabi fencer, it represents hope for women, like me, who continue to demand respect in uncharted territories.
The normalization of Muslim women entering these spaces shouldn't be a result of modest clothing's newfound marketable value (currently grossing $44 billion per year). This should be a norm regardless of the monetary value. We shouldn't be surprised to find that female Muslim athletes, artists, or photographers take space in the world. Muslim women can model, run, sing, swim, or fence—and they do.
The de Young exhibit emphasizes the power of Muslim women by celebrating their successes and demonstrating their influence—creatively, politically, and intellectually. From Slow Factory's 1st Amendment flight jacket to Highness Sheikha Moza Bint Nasser's philanthropic efforts, the exhibit uses fashion and personal style as a lens to discuss the wide range of influence and power that Muslim women hold.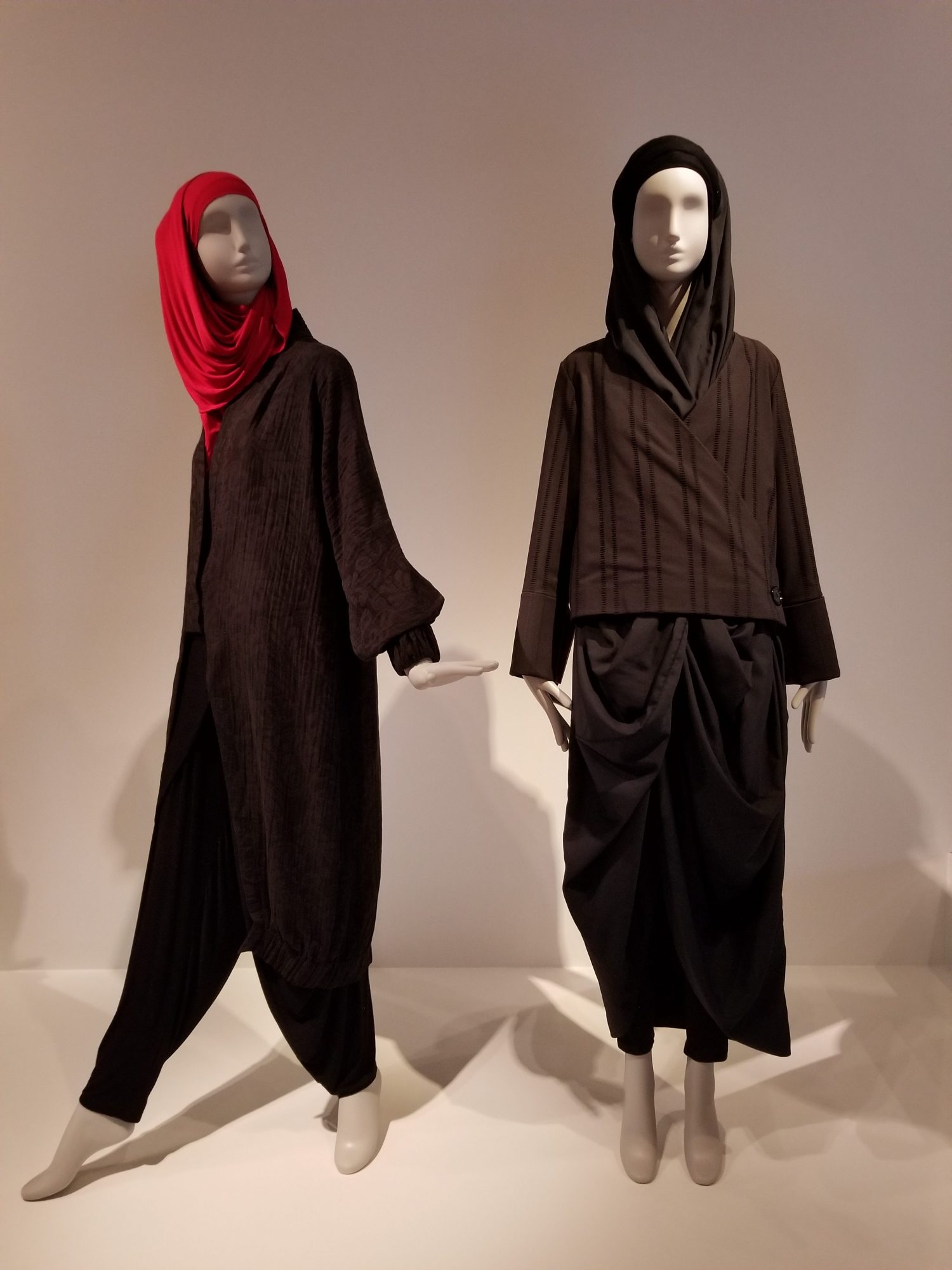 For a long time, I couldn't imagine waking up as a Muslim woman and feeling entitled to my own success without being bogged down by paranoia of how it would affect my family, serve others, or represent my religion. Here is an entire exhibit dedicated to pioneers who refuse to stay silent, who are determined to reclaim Muslim women's voices and spaces. A Muslim woman's burden should not be to debunk the world's skepticism and ignorance. A Muslim woman should not be limited by anyone's definition of "modesty," immediate family or not. We deserve the right to dream without worrying about what anyone else thinks.
I was raised to think that a proper Muslim woman is a shy, coy, and gentle soul who lives and dies for her family's reputation. But here I am a loud, curious human with so many opinions. The de Young exhibit reminded me there is still a place for me in this religion by letting me walk through many Muslim women's experiences, some of which I heavily identified with. The exhibit breaks down the beauty and hardships of Islam by amplifying women's voices through their clothes, their photography, their sheer sound and music. This authentic approach to demonstrating a Muslim woman's life made me feel welcome in the room. And I'd like to feel that more often.