Day four: Meeting with the American embassy staff in Morocco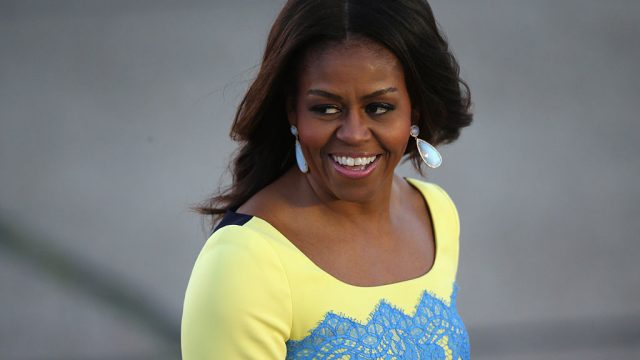 This week, First Lady Michelle Obama is documenting her travels in support of Let Girls Learn here on HelloGiggles. Today, she describes her experiences in Morocco — what young women there are doing to become leaders in their community and get an education. Read day one here, day two here, and day three here.
After a wonderful visit to Morocco, I headed to Spain for the final leg of my journey. But before I left, I was able to take part in one of my favorite traditions on these trips: meeting with some of our outstanding embassy staff to hear about their experiences and thank them for their service.
Every day in nearly every country across the globe, thousands of Americans work at our embassies and consulates, serving as America's face to the world. In fact, for many people in foreign countries, our embassy staff may be the first — or even the only — Americans they ever meet, and our embassies perform the vital daily work of building and maintaining our relationships with other countries.
The folks at our embassies work to promote cooperation with governments, and they also work with local law enforcement agencies to investigate and prevent international crimes like human trafficking. They promote American products abroad, encouraging consumers around the world to buy the cars we make and eat the fruits and vegetables we grow. Our embassies also help Americans adopt children from abroad and review visa applications for students, businesspeople and tourists. And if you ever lose your passport when traveling, or get into any other kind of trouble, the American embassy should be one of your first phone calls.
Finally, the people who work at our embassies introduce people around the world to our American heritage and culture. This cultural diplomacy is a vital part of how we build relationships with people, countries and leaders across the globe. That's why, when foreign leaders visit the United States, in addition to holding meetings and working on policy issues, we try to share some distinctly American customs, cultural activities, and cuisine.
For example, I recently gave five spouses of leaders from Nordic countries a tour of a local museum, and last year I visited the National Zoo with the Chinese First Lady to name our newest panda bear (we went with Bei Bei, and he was adorable).
If you love traveling and learning new languages, and you're interested in meeting people around the world, I hope you'll consider a career as a diplomat. The State Department is always looking for talented Americans who want to serve their country abroad — check out these links and see if a career in diplomacy just might be for you:
To learn more about how to become a Foreign Service Officer, go here.
To learn more about how to enter the foreign Civil Service, go here.
If you follow this blog over the course of this week, you'll get a window into these girls' lives – you'll learn about their challenges, their successes, their hopes and dreams – and you'll find out what you can do to help them get the education they need and deserve. So I hope you'll join me. I'll be posting daily here on HelloGiggles as well as on Twitter (@FLOTUS), Instagram (@MichelleObama), and Snapchat (MichelleObama). And you can go to 62MillionGirls.com to start learning more about global girls' education today.