Dax Shepard Candidly Revealed That He Lied About His Sobriety
He's now 11 days sober again, after 16 years.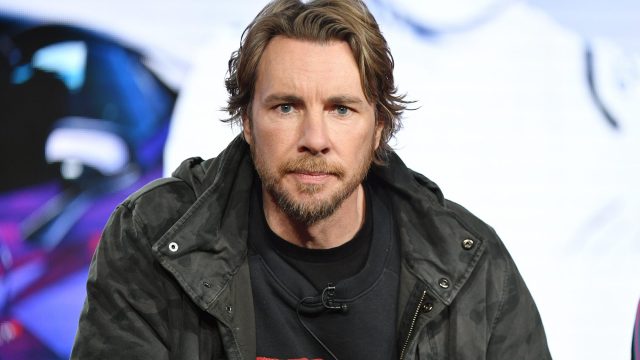 Dax Shepard is opening up about his journey with addiction more candidly than ever before. After 16 years of sobriety, Shepard revealed that he hasn't been entirely sober that whole time, despite having just celebrated that milestone with his wife Kristen Bell and their two daughters. In an episode of his podcast Armchair Expert that was released today, September 25th, the actor shared that he has been secretly using painkillers recreationally over the past eight weeks.
The episode was titled "Day 7" to reflect how long Shepard had been sober at the time of recording, which was on September 21st. He is now eleven days sober. The actor shared news of the episode by posting an image of himself to his Instagram and writing, "An episode I hoped I'd never have to record, but one I felt I owed to all the beautiful Armcheries who have been on this ride with me for the last couple years."
On air with his co-host Monica Padman, Shepard began by sharing his history with Vicodin, which dates back to eight years ago. "Eight years into sobriety, I had not done a single shady thing. I hadn't done anything gray," Shepard explained.
But when he got into a motorcycle accident on his way to work on Parenthood, Shepard was prescribed Vicodin, and Bell was in charge of administering the pills for him. However, when Shepard traveled alone to visit his sick father, he didn't bring the pills, so when he gave his father Percocet, he took some himself, too. Once Bell surprised Shepard by showing up where he was taking care of his dad, the actor confessed what he did to his wife and felt like he could move on.
Since then, Shepard has had multiple injuries that have required him to get prescriptions for opioids. And although Bell and his co-host Padman were always in charge of administering the pills to Shepard, he admits that he sometimes stashed the pills they gave him at night so he could take them in the morning, because they messed with his sleep.
"That cycle happens maybe three or four more times," Shepard recalled. "I feel shady, but I don't feel like this is a problem. I didn't desire more when the thing was over."
The actor often races cars at tracks, and he began taking pills afterward, which he said his "addict mind" justified. "I go ride a lot," Shepard explained. "After I ride sometimes on the track, I feel I'm entitled to take two Vicodin at the end of the day because I am in pain. That again doesn't feel that crazy." 
The turning point was around eight weeks ago, when Shepard said he bought painkillers without a prescription for the first time.
"For the last eight weeks maybe, I don't know…I'm on them all day," Shepard said. "I'm allowed to be on them at some dosage because I have a prescription. And then I'm also augmenting that. And then all the prescriptions run out and I'm now just taking 30 mil Oxys that I've bought whenever I decide I can do [it]."
Shepard says he justified his usage by telling himself that he still had control over his personal and professional responsibilities, and it hadn't reached a point where his loved ones were noticing a difference in him. However, when people like Padman did start seeing a change in his behavior, he began lying about his sobriety.
I'm lying to other people and I know I have to quit, he confessed.
"But my tolerance is going up so quickly that I'm now in a situation where I'm taking, you know, eight 30s a day, and I know that's an amount that's going to result in a pretty bad withdrawal. And I start getting really scared, and I'm starting to feel really lonely. And I just have this enormous secret." 
Shepard revealed that even during his AA meeting on his sobriety birthday, when his friends celebrated his milestone, he was actually high. He called the event "the worst hour of my life." Bell and his daughters posted to Instagram to mark the sobriety birthday, as well.
Finally, a few weeks ago, Shepard decided to confess to both Bell and Padman at the same time. His decision to share the story of his bumpy road publicly came down to his guilt over putting on a false facade. "I can't imagine going to a live show and having some three-week sober person tell me, 'I want to have 16 years like you,'" Shepard explained. "That would just kill me to do that."
The Armchair Expert host apologized for lying to his co-host and close friend Padman on air, and ended the podcast on a hopeful note. "If you've got more than seven days, you've got more than me. You're my elder, and I look up to you. Onward and upward."
If you or a loved one are struggling with substance abuse and need help, you can call the SAMHSA National Helpline at 1-800-662-4357 for free and confidential information.