Dax Shepard "Outs" Kristen Bell With a Totally Awkward Photo
"I don't eff with public restrooms during a pandemic," Bell responded.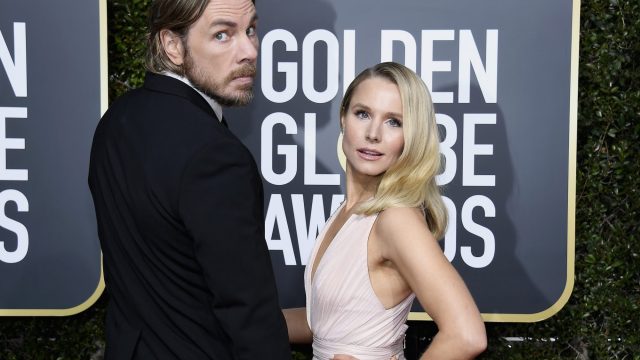 Sure, Kristen Bell may be a great actor and a pro at giving voice to animated characters. But, did you know that's she's also an expert at peeing in a cup while seated in the passenger seat of a Dodge Charger Hellcat? Well, she is. And husband Dax Shepard has the pic to prove it.
"The most important part of this photo isn't that my bride @kristenanniebell is peeing in the car, it's that the car is 36 hours old!!!!" he captioned a September 20th Instagram post.
So much disrespect that I almost have to respect it, Shepard added on the awkward photo.
Justin Long commented, "'Let it go, let it go!!' Yet ANOTHER really impressive thing KBell does!" Who would have thought a Disney princess would be able to pull off such a stunt?
And after another follower commented, "I don't understand the body parts in this picture lol," Bell explained, "I'm squatting on the seat, holding the bottle, leaning my head and shoulders over to the left. For AIM!" Right. Of course.
So, what's the story behind this strange and unusual pic? "I don't eff with public restrooms during a pandemic," Bell explained on both Shepard's post and in her Instagram Story. She used the "Sorry Not Sorry" sticker to drive her point home.
Like…we get it. But also, we're just not sure if peeing in a cup in the car is the first alternative we'd necessarily go with. That's just us, though.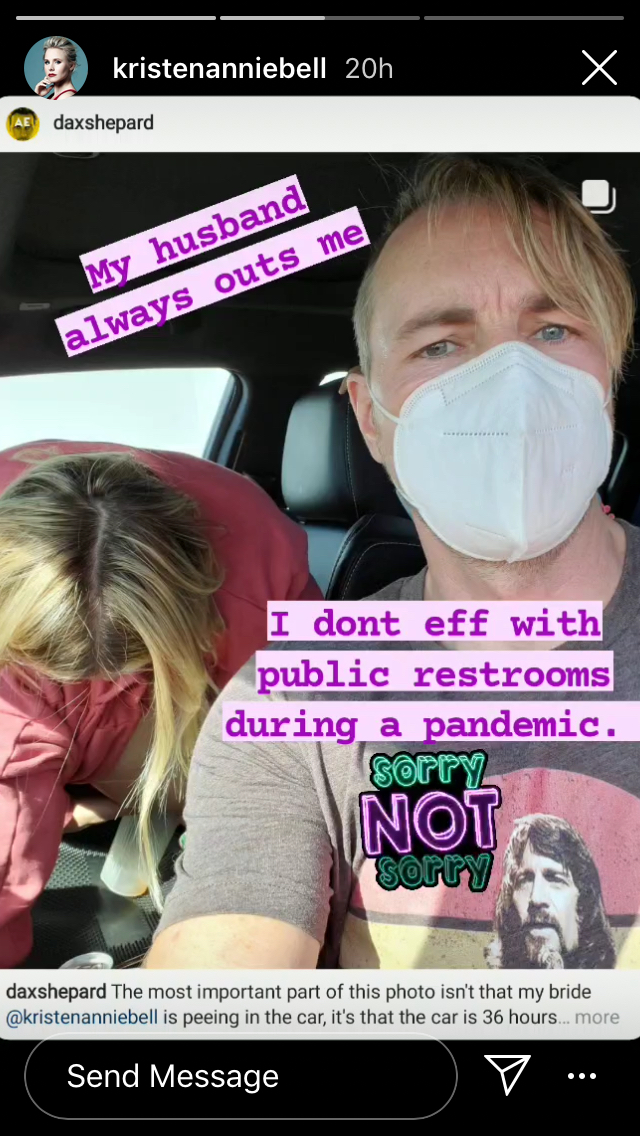 As one follower commented on Shepard's post, "It's called 'christening' Dax," to which Bell wrote back "THANK YOU." Let's just hope this picture had a happy ending and the leather upholstery didn't suffer.
If you're going to try to pull off a car pee, someone just has to out you—even if you're a celebrity with millions of social media followers. Sorry, we don't make the rules. We're just here to laugh.