Dax Shepard is jealous of Kristen Bell's career — but in a totally adorable way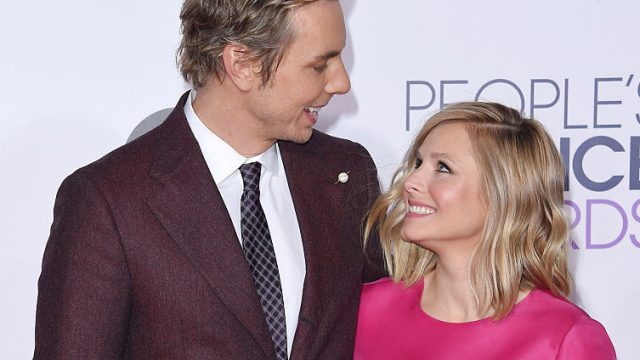 Kristen Bell and husband Dax Shepard are now bringing their adorableness to a TV screen near you. This Saturday, they will both be voicing characters on the new children's TV show Terrific Trucks – but the cuteness doesn't stop there. While recording their voices for this show, Dax realized he was jealous of his wife's career — but in the sweetest way possible.
"Mainly I'm jealous of my wife's outstanding voiceover career and I'm really trying to bite at her heels," Shepard told People. "That's the one thing she's really got me on – well, there's a few things, but that's certainly one of them." He added that, right away, Kristen is great at her job. As for Dax, it takes him a few tries to get it right.
However, Dax isn't the only one who admires his partner's talent. Kristen actually mentioned that she enjoyed seeing Dax a bit jealous of her because he's so great at everything else. "I rarely work in a playing field where I have a leg up over him, because he's a really good writer/director/actor, and I'm just a decent actor. I'm a passable actor," said Kristen (um, we have to disagree, Kristen! You are amazing – give yourself a little more credit!). "So it was great to see him be a little hesitant and look to me and be like: 'Did I do that right?' … It was nice to see his confidence waver ever so slightly to remind me that he's human and not perfect and good at everything!"
Jealousy aside, as you can imagine, these two loved working together on this program – especially because they can watch it with their truck-loving daughters: 3-year-old Lincoln and 1-year-old Delta. Thanks to their dad being someone who loves machinery, Kristen revealed that her girls are growing up to love "anything with a motor."
As for following in their parents footsteps by joining the entertainment industry, Dax joked, "They better be [future stars] — that's my retirement plan. I pulled in the driveway the other night and [Lincoln] just stared at me and did this insane dance for about 60 seconds. I thought to myself: 'Yeah, she's got the goods.' That's the foundation one needs to try to entertain strangers!" Kristen added that her daughters are definitely going to know how to deliver a punchline.
Could the Bell-Shepard family get any more adorable? (We have a feeling that the answer is a resounding yes.)