The cast of "Dawson's Creek" just reunited for an epic "Entertainment Weekly" cover, and cue the Paula Cole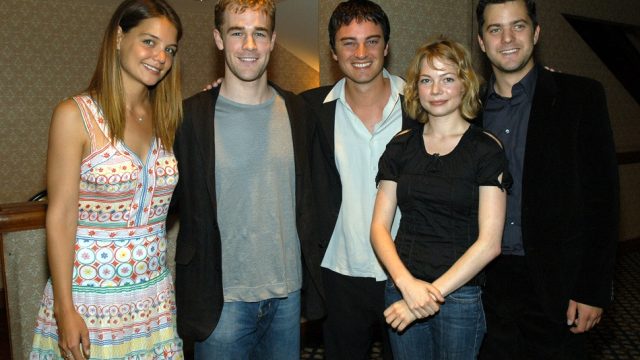 We've been hoping and praying for a reunion for years, and our dreams finally came true — mostly. While there's no talk of an actual reunion episode, the cast of Dawson's Creek reunited for an Entertainment Weekly cover shoot to celebrate 20 years (and a few months) since the show debuted.  We know, we can't believe it's been that long either.
The magazine didn't just get Dawson's Creek stars Katie Holmes, James Van Der Beek, Joshua Jackson and Michelle Williams to join them; they also reached out to Busy Philipps, Meredith Monroe, Mary Beth Peil, and Kerr Smith to join in on the fun. The core four got a group cover and their own individual covers, aside from Williams, who posed with Philipps on hers. Williams and Philipps are our favorite BFFs off-screen, so we're pretty thrilled that the cover managed to capture the spirits of Jen Lindley and Audrey Liddell and the real love between the two actresses.
According to Entertainment Weekly, the group cover will be available everywhere starting March 30th, but the individual collector's covers can only be purchased at Barnes and Noble starting on April 3rd — which, in itself, makes us feel like giddy teens again.
Seeing them together after all these years is giving us all the feels.
https://www.instagram.com/p/Bg3gBxvlLoY
This is the first time the full cast has been together since the show wrapped up, so we can imagine how special it was for them, as well.
And if we really think about it, this is actually way better than a televised Dawson's Creek reunion. The show was such an important part of our lives and we'd hate it if the end result disappointed (plus, they'd have to find a way to resurrect Jen, which sounds hard).
We want to extend our sincerest thanks to Entertainment Weekly for making this Capeside High reunion possible. Now excuse us while we go get down to some Paula Cole deep cuts.