"Dawson's Creek" could've been so different — Katherine Heigl was almost cast as Jen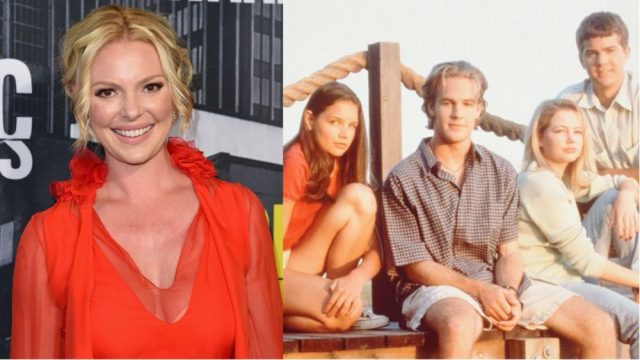 If you don't wanna wait for your life to be over to finally get a Dawson's Creek reunion, you're in luck! Entertainment Weekly reunited the stars of Dawson's Creek, and with the incredible '90s reunion came the reveal that the show almost looked *very* different. Specifically, Katherine Heigl was almost Jen on Dawson's Creek, and can you imagine how different the series could've been?!
The role of Jen on Dawson's Creek was made famous by Michelle Williams, who would go on to be an iconic, Oscar-nominated actress. But Jen was almost played by Katherine Heigl!
At the time, Heigl was best known for her TV work, including a starring role in '90s Disney Channel movie Wish Upon a Star. Though she didn't land the role of Jen, she did go on to star in another '90s-era teen hit, at least. Heigl was a main cast member of Roswell, the show about alien teens. Just a few years after Roswell wrapped, Heigl got the role of Dr. Isobel Stevens on Grey's Anatomy and launched her film career from there.
Kevin Williamson, who created Dawson's Creek, told EW that he remembered being impressed by Heigl's audition.
Williamson had directed Heigl in one or two projects in the early '90s and brought her in for the role of Jen. As he remembers it, "[Heigl] looked slightly older at that time. Even though she was younger, I just think she was more mature. She gave a great audition, I remember we were all sort of like, 'Wow, she's good.'"
Ultimately, the role went to Williams, whom Williamson described as an "angel." For Williamson, it was Williams "performing a largely silent scene between Jen and her dying grandfather" that sealed the role.
For real. Actor Joshua Jackson originally went out for the role of Dawson, and the casting crew was all for it. That is, until James Van Der Beek came in. Van Der Beek *was* Dawson, all handsome and intelligent and secretly a mega-nerd, and that's when Williamson *knew* that Jackson had to be Pacey.
Oh, and before Katie Holmes' legendary audition for Joey, can you guess who had the role all locked up? That would be none other than early '00s icon Selma Blair.
Cue Dawson cry from all the '90s feelings. Now, where's our Dawson's Creek reboot???