James Van Der Beek says he's Team Pacey, and this is almost as shocking as when he forgot how Jen died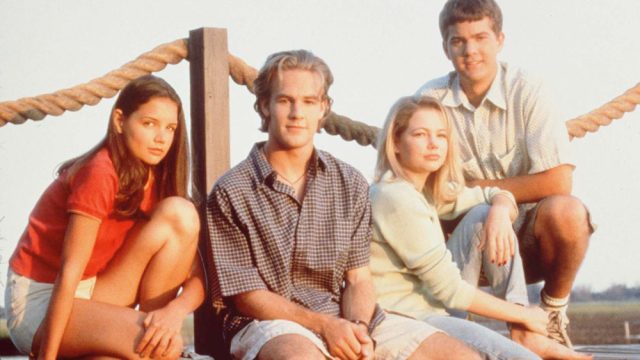 In today's Dawson's Creek news that will make you scratch your head harder than when you learned that James Van Der Beek straight-up forgot how Jen died, Dawson himself (Van Der Beek) just revealed that he was — and still is — #TeamPacey. And OMG, this is leaving us Dawson's Creek fans so SHOOK.
Just as it was difficult having to choose between *NSYNC and the Backstreet Boys, 90's kids found picking the boy who Joey Potter (Katie Holmes) should end up with to be just as challenging, if not more. Over the course of Dawson's Creek's six seasons, fans flip-flopped from one side of the Joey-Pacey-Dawson love triangle to the other, but many were delighted when Joey ultimately decided to be with Pacey. Turns out, one of those fans who thought Joey and Pacey were the *true* soulmates was none other than Van Der Beek, the man behind Dawson Leery. And whoa, we didn't see that coming!
"It felt right to me," he told Entertainment Weekly. "It seemed like it made more sense."
We can't blame him, TBH. While Dawson and Joey certainly had history, Pacey and Joey had the chemistry! They were just destined to be together!
Even Dawson's Creek creator Kevin Williamson, who was initially a solid Joey/Dawson shipper, thought that making Pacey Joey's endgame was definitely the right decision.
"I was a Dawson/Joey diehard. It was always going to be Dawson and Joey," he explained. "I don't care how romantic things got between Joey and Pacey. It was going to be Dawson and Joey, always. Until I started writing it. And then once I started, I even wrote it Dawson and Joey.
"But when we saw the chemistry [between Holmes and Jackson], it was more surprising. I'm so happy we did it," he admitted. "I went to the trailer and I started writing it. And when I wrote it, I went, 'Boy, this feels right.'"
Meanwhile, Holmes was relieved that she wasn't part of the decision making process. "I'm glad that Kevin had to make the decision and we didn't," she said. To be fair, we wouldn't know what to do if we were in her shoes either!
As for Joshua Jackson? He totally sided with his character, Pacey. "Of course I did," he said when asked if he loved the finale. "My vanity knows no bounds," and LOL.