This is how David Schwimmer really feels about Robert Kardashian's role in the OJ trial
Yes, we're feeling a *lot* of feelings about FX's latest mini-series, American Crime Story: The People vs OJ Simpson. But the people who are certainly going through even more emotions? The cast. After all, bringing one of the most sensational trials in American history to life can be pretty high-pressure. That's exactly why it was a pretty difficult decision for David Schwimmer to accept the role of Simpson's counselor, lawyer, and friend Robert Kardashian. In an interview with Variety recently, Schwimmer explained that after doing some research and soul-searching, he felt his character was the "heart and conscience" of the series.
Initially, Schwimmer didn't know much about the role. "I had no real memory of [Kardashian] other than that white guy who stuck with OJ and was on the defense team, too," Schwimmer told Variety. "I really didn't know his deal. The more I read, the more I talked to the writers and Ryan, and understood in his role in the series, I really was intrigued. And frankly, I was moved by the fact that he was the one character who had nothing to gain from his involvement in the trial."
There was a lot of pressure to do the character justice — especially considering the fact that Kardashian passed away from cancer in 2003. "For me, there's a greater responsibility to get it right and honor the person, especially when they're not here to defend themselves," Schwimmer explained. "Robert's passed on. There's more gravity to it, in my opinion, to get it right and tell the truth. To be faithful to his memory. . . I talked to Kris Jenner, and that was a great, great help to hear from her who he was as a husband, as a father, and as a family man."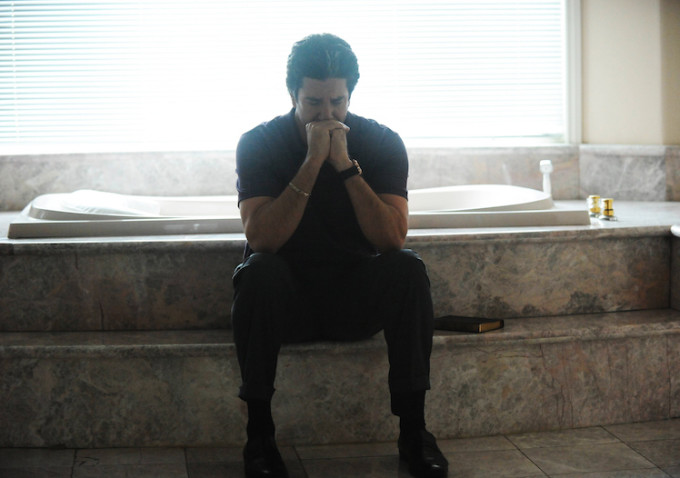 Executive producer Ryan Murphy encouraged the cast members to avoid talking to their characters' real-life counterparts, but Schwimmer "had never heard that" and reached out to Jenner about her late husband. "I learned that he was a real family man," Schwimmer told Variety. "That was what he lived for — family time, his parents, all the kids, Kris, big meals with family and friends. That he was quiet, but in the privacy of his family and friends, he was quite gregarious. He was quite funny. He was very charismatic."
However, Kardashian ironically, had "no interest in the spotlight," Schwimmer continued:
In fact, Schwimmer even purchased a leather Bible with Kardashian's name on it, much like the one Kardashian once had, and started reading it. "Just thinking more closely about what his relationship to God must have been like," he told Variety.
Overall, the experience has been difficult, but rewarding, Schwimmer said. "One of the most challenging [scenes] was when he was trying to kill himself in Robert's daughter's bedroom," he explained. "Another one for me, was later on, in episode 7 or 8, when Robert really is going through a crisis of faith, and he comes to Kris' house to pick up the kids. He breaks down and admits he's lost. That was a tough scene."