In *shocking* "Saturday Night Live" news, one of the Hollywood Chrises almost played David S. Pumpkins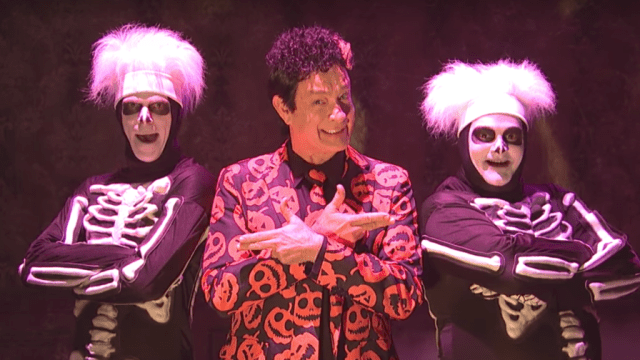 To add to our list of "TV things that never happened but could've," we learned something about a fav Saturday Night Live sketch that would've changed everything.
In an interview with Seth Meyers, Saturday Night Live alum Bobby Moynihan got to talking about David S. Pumpkins. Moynihan spoke a bit about how the sketch came to be — it seems like it just came up in conversation, which really adds to our desire to hang out in the SNL writers' room — and he had deets about who almost was David S. Pumpkins.
https://www.youtube.com/watch?v=tWKTcydQluA?feature=oembed
Apparently, Tom Hanks thought the sketch was "very bizarre" at first, and wasn't super into it.
In his defense, it is very bizarre. But, like, good bizarre. Of course, Tom Hanks changed his mind eventually…But not before he offered a suggestion about who should play David S. Pumpkins instead. And he suggested one of the Hollywood Chrises.
"Tom Hanks, in between dress and air — not a fan of the sketch," Moynihan said. "He thought it was very bizarre and was like, 'Hey, I think Chris Hemsworth would make a great David Pumpkins.' But now he is very happy with it."
Chris Hemsworth was set to host the following week. So REALLY, we were SO CLOSE to getting Chris Hemsworth wearing a $12.99 Party City pumpkin suit and slapping Bobby Moynihan's ass. The TV gods giveth, and they taketh away.
If you happened to miss out on David S. Pumpkins, don't panic. We're here for you, and all things Halloween.
https://www.youtube.com/watch?v=rS00xWnqwvI?feature=oembed
Now watch it again, but picture Chris Hemsworth. You're welcome.