A Fox News host mocked David Hogg's college rejections, and his 14-year-old sister defended him like a pro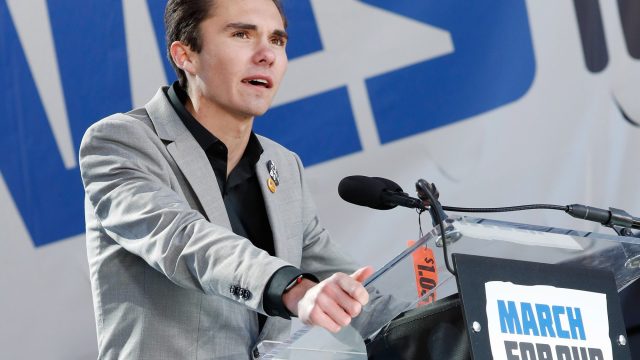 Update, March 30th, 8:20 a.m. PT: This story was amended to include Ingraham's apology to Hogg.
Ever since the survivors of the Marjory Stoneman Douglas High School shooting assumed leadership of the gun control movement, critics have been attacking them. First, the Parkland students were accused of being crisis actors. Then, internet trolls photoshopped an image of Emma González to make it look like she was ripping up the Constitution of the United States. And now, a Fox News host has mocked David Hogg's college rejections — and Hogg (and his sister) have fired back.
Hogg revealed in an interview with TMZ on March 28th that he has been rejected from four University of California schools. And Fox News host Laura Ingraham sneered at Hogg's rejections on Twitter, claiming that the 17-year-old had complained about not being accepted and even poking fun at the high school senior's grades.
"David Hogg Rejected By Four Colleges To Which He Applied and whines about it," Ingraham tweeted. "(Dinged by UCLA with a 4.1 GPA...totally predictable given acceptance rates)."
Hogg responded to the TV host's taunts by encouraging his nearly 600,000 Twitter followers to contact sponsors of Ingraham's show, The Ingraham Angle and ask them to withdraw their support. He posted a list of the show's top 12 advertisers and wrote, "Pick a number 1-12 contact the company next to that #."
Hogg's 14-year-old sister and fellow Parkland survivor Lauren Hogg called Ingraham's attack "real low" and tweeted at the Fox News host to "please grow up." She then called on First Lady Melania Trump to condemn Ingraham's tweet as an act of cyberbullying.
And several others, including politicians and celebrities, also rushed to Hogg's defense.
https://twitter.com/udfredirect/status/979354230074085377
On the afternoon of March 29th, Ingraham tweeted an apology to Hogg. She wrote that "Any student should be proud of a 4.2 GPA" and said she was sorry for "any upset or hurt" she may have caused.
By ridiculing Hogg over his college rejections, Ingraham was effectively bullying a child. Adults should not be attacking high school students — regardless of if they agree with their political positions or not. We're in awe of everything the Parkland students have done for the gun control movement so far, and we stand by their efforts bring about positive change.