David Harbour hopes his Golden Globe nom means he won't die in "Stranger Things" Season 3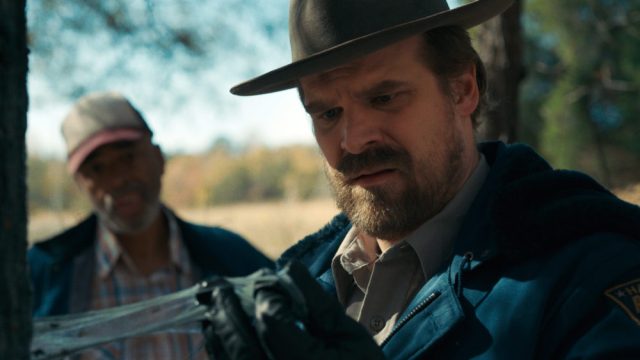 It's time to do your best Chief Hopper dance because David Harbour was nominated for his first Golden Globe.
The actor received a Best Supporting Actor in a Series, Limited Series, or a Motion Picture made for Television for his role as Chief Jim Hopper in the second season of the Netflix series Stranger Things. The series itself also secured a Best Drama Series nod.
David Harbour, who continually gushes about Stranger Things and his costars, posted the most heartwarming message to Twitter, thanking everyone from the Hollywood Foreign Press Association (HFPA) — the governing body of the Globes — to his Stranger Things family.
"Thank you HFPA for the great honor of being nominated for a supporting tv actor Golden Globe award this year, and for nominating Stranger Things in the Best TV drama category as well, " he wrote. "It's gratifying to be seen for my work and to be in a category with such esteemed colleagues."
"The work I do on ST has been the most satisfying of my career, due to the brilliance of all departments but of course most especially the writing and directing of the Duffer Brothers and the directing and producing of Shawn Levy and Dan Cohen and the generous license to play that Netflix gives us."
"My co-stars are all so inspired and inspiring to work with on a daily basis, and I surely wouldn't be nominated without the special chemistry I had this past season with Millie [Bobby Brown], Winona [Ryder], Finn [Wolfhard], Noah [Schnapp], Sean [Astin], Paul [Reiser] and all the rest. Their work makes me shine. They make it easy for David and Hopper to look good."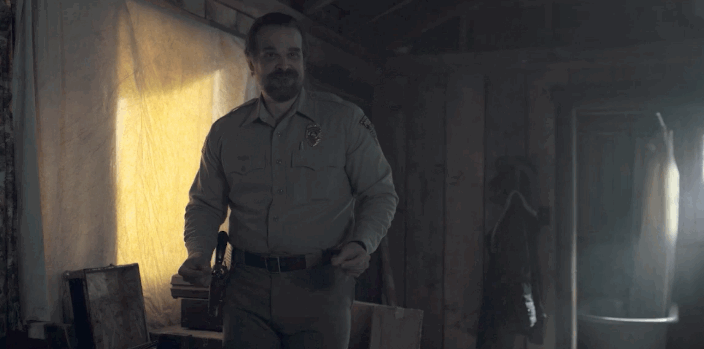 Naturally, Harbour is hoping his new Golden Globe nomination ensures Chief Hopper survives the third season of the hit series.
He quipped, "Does this mean I won't die in season 3? Guys, seriously, cmon people, tell me…"
Hopper has had more than a few brushes with death during the first two seasons of the hit series — most recently being trapped in the Upside Down tunnel network and later having to fight off a pack of demodogs — so it's no surprise that Harbour is using his nod as leverage to make it through another season of the sci-fi/horror series.
Unfortunately, it appears the Stranger Things writers are keeping things *pretty* tight-lipped. But for what it's worth, we hope he survives the third season, too.
And we're guessing we aren't alone in that feeling, because Harbour's co-stars are also beyond excited about his nom:
false false
https://www.instagram.com/p/BckNn4EFxBQ
The Golden Globes will be hosted by Seth Meyers on January 7th.