David Bowie almost played this iconic film character and we can't even imagine what that would have looked like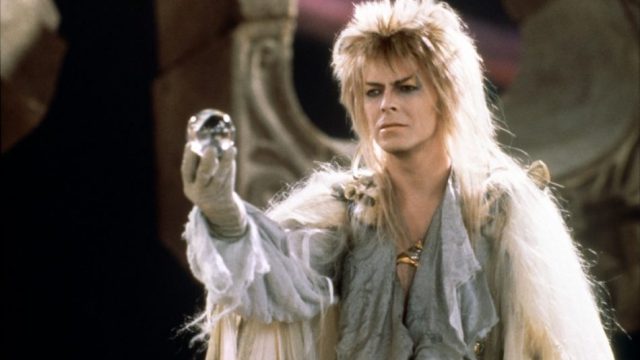 Well here's some news we never imagined hearing. Aside from being one of the greatest musicians of all time, you probably know Bowie from his role as the Goblin King in Labyrinth.
But as it turns out, Bowie was ALSO ALMOST AN AWESOME WIZARD!
Believe it or not, while we all think of Sir Ian McKellan as the perfect Gandalf in Lord of the Rings, the part could have gone in a totally different direction. That's right: David Bowie almost played Gandalf in  the famed trilogy.
What? How?? What??!
Earlier this year, LOTR actor Dominic Monaghan recounted a run-in at a casting agency with the legend right after his own audition for the part of Meriadoc Brandybuck.
"As I was reading a magazine waiting, David Bowie came in and signed his little list and went in, Monaghan told The Huffington Post  "And I'm assuming he read for Gandalf. I can't think of anything else he would've read for. He may have read for something else, but I'm a huge David Bowie fan, and I was lucky enough to know his son now, so just seeing him in person was pretty special to me.
Fast forward to now, Lord of the Rings casting director Amy Hubbard spoke to The Huffington Postin celebration of The Fellowship of the Ring's 15th anniversary. She revealed that director Peter Jackson was indeed interested in casting Bowie as Gandalf. But because of Bowie's crazy schedule, he never had time to audition, and the part went to Ian McKellen.
"He was unavailable," Hubbard told The Huffington Post. "It was a very quick conversation with the legendary Chris Andrews at CAA."
"We approached him. I'm pretty sure it was Peter Jackson's idea in the first few weeks that we got going. It was one that he'd always wondered about, and we rang Chris, and [Bowie] was far too busy.
Bowie was too busy being Bowie, and we're pretty sure the world understands. Plus, we can't imagine Lord of the Rings without McKellen.